Our coffee series are divided not by region, but by the intentions of the people behind the coffee. There are a total of 4 series
Our coffee series are divided not by region, but by the intentions of the people behind the coffee. There are a total of 4 series: Livelihood, Forest, Innovator and New Generation.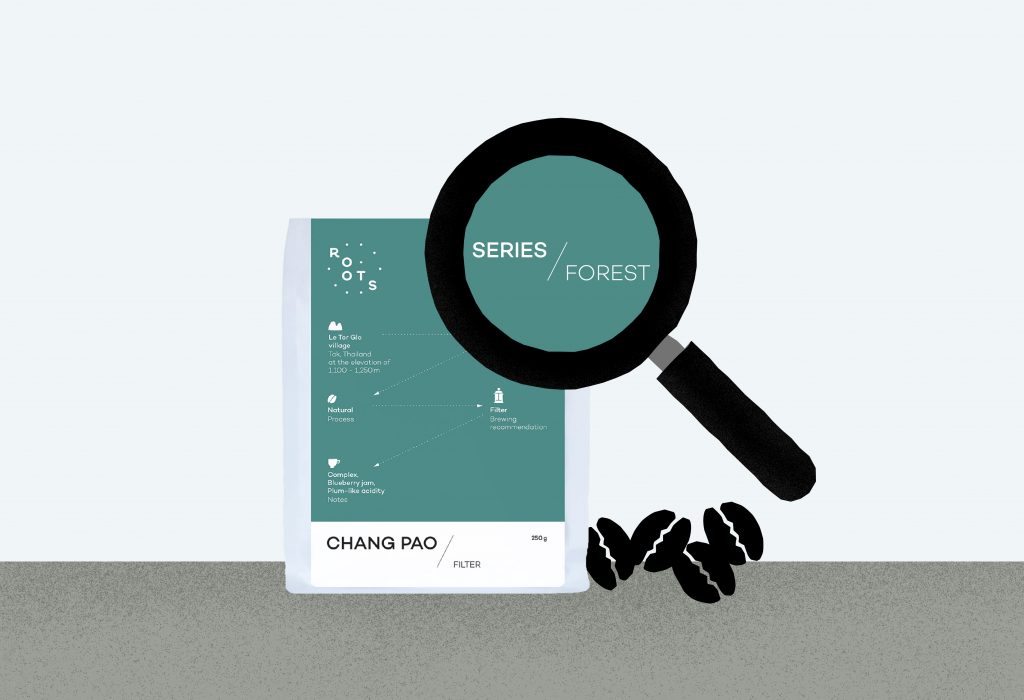 Our coffee series are divided not by region, but by the intentions of the people behind the coffee. There are a total of 4 series: the Livelihood Series – coffee that creates more job opportunities for the locals, the Forest Series – coffee that supports forest regeneration, the Innovator Series – coffee that leads to the discovery of sustainable planting and processing techniques, and the New Generation Series – coffee that inherits the aspiration and dedication from the previous generation of coffee farmers.
Since all of the series are meaningful to us, we wanted to tell you a little bit more about them.

01 LIVELIHOOD SERIES
The coffee beans from this series are from farmers who see coffee as a tool to improve the quality of life for the locals. Coffee is not only their source of income and stability in life but is also a tool to help others in the community, one that they hope can bring sustainable careers to everyone.
P' Kaleb from Nan plays a big part in this series. A few years ago, he moved back to Maneepruek Village, Nan – an area that's notorious for forest burning. Affected by the situation, the villagers switched to less sustainable ways such as short-live plant farming which requires constant soil shoveling and ginger farming which affects the quality of the soil in the long run. Unlike those plants, coffee trees can actually be harvested for up to 30 years. It became P' Kaleb's mission to set an example for other farmers and to show them that coffee can improve the quality of life for locals and that it can become a sustainable source of income.
P' Jaroon from Chiang Rai is another farmer in this series. He noticed that the villagers in Khun Lao Village were already working with coffee so he decided to introduce his systemized farming approach to them in the hopes that they discover how to improve the quality of their coffee in their own way.
02 FOREST SERIES
The farmers featured in this series are those who have a strong will to protect and preserve the forests in their hometown. They believe that the secret of great coffee comes from nutrient-rich and healthy forests. Chang Pao is one such person amongst many farmers who deeply care for the environment. Aside from his passion for producing flavorful coffee, it is his goal to turn the bleak mountains of Le Tor Glo Village in Tak into a green one. For years, the weather there has been getting worse because of the forest damages caused by locals burning through the lands to create areas for farming. Chang Pao did not want this to continue, so he became a coffee processor who encourages coffee farmers to plant coffee trees alongside native trees to regenerate the forest. He hopes to restore the forest in that area to what it once was. His intention is similar to P' Sopa's, a coffee producerfrom OmKoi, Chiang Mai who sees coffee as a medium to support forest conservation.
03 INNOVATOR SERIES
The Innovator Series is full of experiments and discoveries. These amazing group of people never stop looking for new farming and processing techniques. They love experimenting and coming up with new ways to help improve the Thai coffee industry. Ray Buerger is a great example of this. When the honey process was introduced to the public in 2010, Ray was the first person in Thailand who adopted this process in the following year since it required less water than other processing techniques. In addition, the honey process doesn't require wastewater management like the wet process. And the best part of it is that the hot and humid weather of Thailand does not have any negative effects on this process at all. Unfortunately, the same cannot be said for the dry process!
Recently, Ray has started learning about malolactic fermentation which takes place in a below-room-temperature environment. He saw this as an opportunity to make his coffee taste better and became the first processor in Thailandto try it out. According to Ray, if his coffee gets better then people will love it and would be more accepting of its price, thus creating more value in the products which will bring sustainability to the coffee industry.
04 NEW GENERATION SERIES
For this series, we present you with a new group of farmers who returned to their hometowns to improve the lands that were handed down to them by their families. This new generation of farmers enjoys experimenting and trying to find the best practices for their coffee. They put their efforts into coffee farming and making their community better. That's the reason why P' Nawin, one of our producers, collects coffee beans from farmers in his network to help support the use of organic fertilizers. This is also true for Ata, a new-age farmer, who sees the importance of working with multiple coffee species . At Pang Khon Village, Ata is a lead supporter for other farmers who wants to try growing different variety of coffee beans.
These are the people who truly care about improving the quality of their coffee and the lives of their communities and environment. They are our inspiration and we feel incredibly grateful to be a small part of their coffee journey!