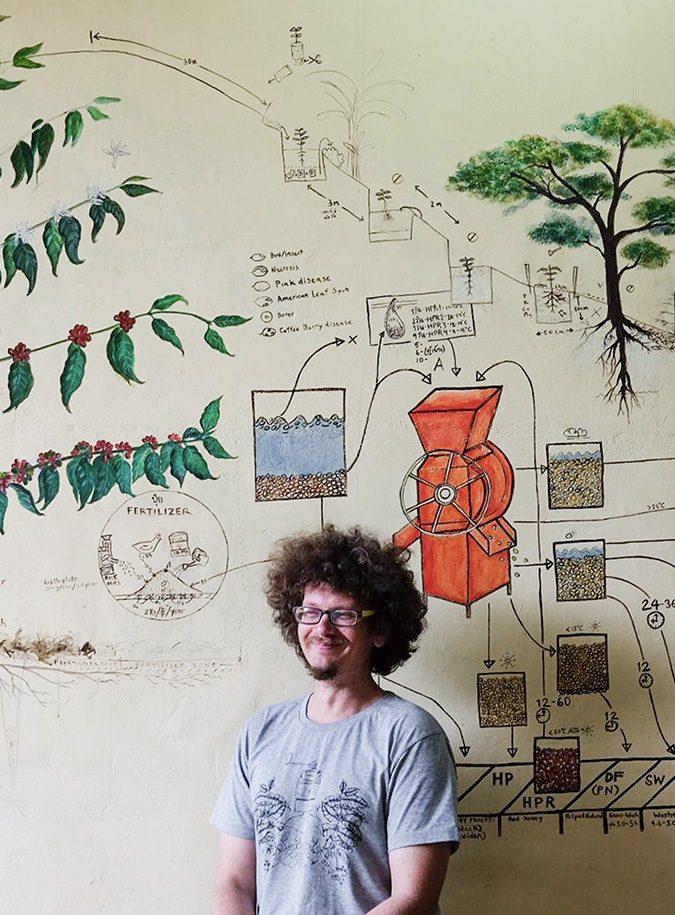 We spoke with Kaleb Jordan, an coffee enthusiast who grew up in Thailand and went to Purdue University, a university in Indiana, USA. For Kaleb Jordan, coffee is not just a part of his profession or his hobby, but rather it's a tool that he can use to help a lot of people. It is this believe that has fuelled his passion for coffee and what makes him want to continue this journey.
Mr. Roots: How and when did your coffee journey begin?
P' Kaleb: When I was in Indiana, USA, my plan was to become a missionary. Every day I studied the Bible in the morning and worked at the roasting company in the afternoon. My job back then was packing coffee. After a couple of months, the head of roasting team resigned and I was chosen to replace him. So, I started working in the coffee industry without any real knowledge. I decided to spend one day a week to learn more about coffee. I practiced by sample roasting and cupping all day. I had worked there for about three years, then God called me to come to Thailand and work with the Prai people in Nan. So I arrived in Maneepruek Village with some knowledge of coffee and saw the potential for coffee farming in the area.
In 2003-2004, the coffee varieties in Thailand that exist were mostly Cartimor. It made me wonder if other great varieties would do well here. So, I tried Gesha and Java. I also wanted to see if the price for unfamiliar varieties would be higher than the familiar ones, or if Cartimor was the best choice at that time. I was talking about the time when there was no third wave coffee. No light roast. No drip coffee. Cafes just started to become a new trend in Thailand. It was so new; there were only a few brands like Black Canyon, Coffee World, and Baan Rai Coffee in the business when I started.
Mr. Roots: What does coffee mean to you?
P' Kaleb: People usually think I'm so crazy about coffee, but that's not how I see myself. For me, coffee is a tool that can help others by improving their quality of life, providing job opportunities, and sharing the love with everyone in the community. I also like the complexity of it. It's so complex that there's no way I can be a know-it-all in this field. I love learning through experiments. Thus, coffee allows me to have fun coming up with new ideas and as a way to keep challenging myself.
Mr. Roots: What type of coffee do you like to drink?
P' Kaleb: It depends. A cup of medium-roast Robusta is what I like to drink in the morning. During daytime, my choice would be drip coffee from a honey process, preferably medium roast and low acid one. I'm not a fan of iced coffee, only hot ones are my favorite.
Mr. Roots: If you weren't in the coffee industry, what do you think you would be doing now?
P' Kaleb: I would probably open a metal lathe workshop, making toys from steel. It's actually another activity I'm enjoying right now.
Mr. Roots: Where do you see yourself in five years and what do you think your coffee will be like then?
P' Kaleb: Of course, I want to continue learning. In five years, I hope I will get to experiment more on coffee processing. I want to improve my skill in natural and honey processing – now it's pretty much trial-and-error learning. As I said earlier, I don't think I will be able to learn everything but what I can do is to try learn as much as I can and make the coffee quality more consistent. With regards to coffee varieties, I will probably try Lorena. Hopefully, someone will plant 20 acres of them (laughs). I think Maneepruek village is a great location for Lorena because the environment here is ideal and resistant to the stem rust. Although dealing with Lorena is probably as difficult as Gesha, I still think it's interesting. If Lorena does well in Maneepruek village, having decaf coffee would definitely be a perk since I can't consume too much caffeine!
Mr. Roots: Is there anything you'd like to tell our customers?
P' Kaleb: There's one thing everybody who loves drinking good coffee should understand: coffee always changes. I don't want people to have expectation toward coffee flavors. I want them to have an open mind since coffee flavors vary. Just like when we look at the sky, we know it constantly changes. Same goes for coffee. There's something waiting to be discovered in every sip.
Feel like trying P' Kaleb's coffee? Click here.