Our Barista 'Bank SM' and the squirrel he took to the Latte Art Grand Prix. In this interview, Bank shares some of the stories that only competition contestants would get to experience!
Our Barista 'Bank SM' and the squirrel he took to the Latte Art Grand Prix. In this interview, Bank shares some of the stories that only competition contestants would get to experience!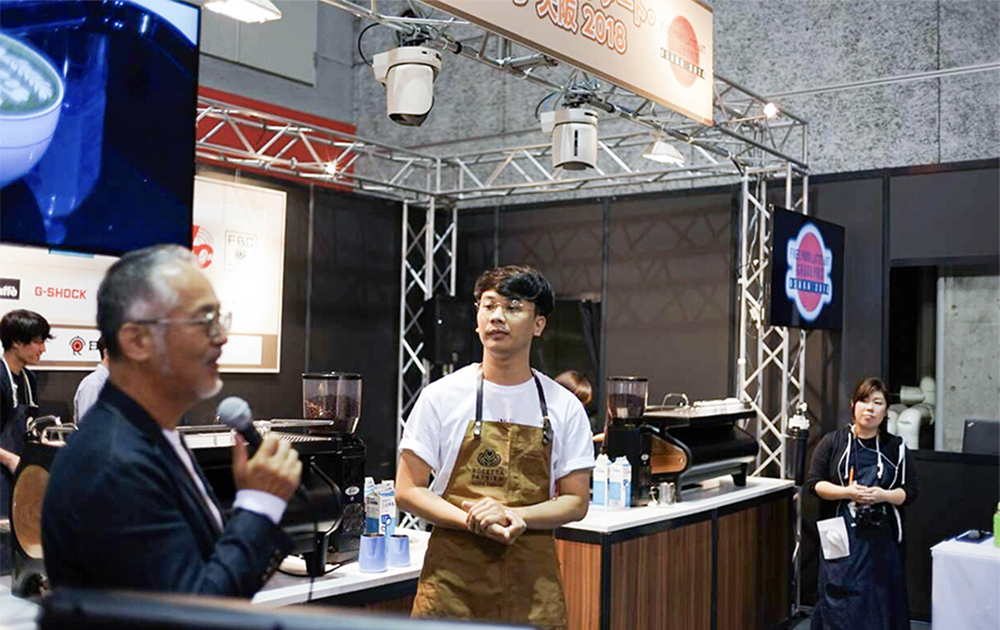 'Bank SM' Sarawut Manngan's interest in latte art began when he became a barista. Prior to joining Roots this year, Bank was a barista at Roast for almost three years. He took his passion for latte art to the next level by practicing and competing in various competitions, including the Free Pour Latte Art Grand Prix OSAKA 2018 which took place in Japan last month. In this interview, Bank shares some of stories that only competition contestants would get to experience!
Mr. Roots: How did you become interested in latte art?
Bank SM: My interest began when I was working at a café. Seeing other baristas pouring a heart into a cup made me want to try it. As a beginner, I didn't know how to do it, but I kept trying. I started with three basic patterns: a heart, a tulip, and a rosetta. Once I was confident with these three, I began combining them and created additional patterns. For me, creating a pattern is never easy. But pouring and trying to make it look exactly like what I have in mind is much more difficult. That's why I feel like I always get to learn new things from doing latte art.
Mr. Roots: You've participated in a bunch of latte art competitions in Thailand, could you please tell us more about that?
Bank SM: Latte art competitions in Thailand are usually divided into two categories. The first one is smackdown where each barista will have to compete with another one. The one who wins will go to the next round and compete again and again, until you get to the final two. The second one is judged by a scoresheet. It has more rules and quite common among big competitions, for example, National Thailand Latte Art Competitions. The judgement is based on scoring criteria.
Another good example of this kind of competition is CP-Meiji Speed Latte Art Championship, which I won this year. The scoresheet plays an important role in every round. The first three rounds are judged by tulip and rosetta leaf patterns. Next, the final 16 baristas have to make two patterns. However, one of them must be from the pattern wheel. When it comes to the final, everyone is required to make three patterns: one from the wheel, one that could be anything, and one designer pattern. The last one definitely requires some techniques to complete. For example, if the bird pattern is your choice, you might need an etching technique to draw its eyes or create a branch.
Mr. Roots: What was your latest competition?
Bank SM: Last month I participated in the Free Pour Latte Art Grand Prix OSAKA 2018. This is another competition that's judged by a scoresheet. The scoresheet clearly specifies the criteria: 10 points for technical skill, 10 points for aesthetic beauty and balance, 20 points for creativity and originality, 10 points for definition, and 10 points for color infusion. Only 16 baristas would pass the first round and get to move on to the next one. The same scoresheet is used, except for the technical skill. Therefore, if anyone performs technical skill well in the first round, it would be a huge advantage for the final round.


Mr. Roots: Which design did you use in this competition?
Bank SM: A squirrel sitting on a tree with a pine nut in its hands. Based on the original design, I adjusted it a bit to make it simpler and more balanced in proportion. Every detail had to be well-balanced, not too tight and not too open. The most important thing is that it should be clear enough so people will recognize the design.
To draw this pattern, I began making a body of the squirrel with two tulips. Then, I added a leaf on the side and under the body, and added another leaf to draw its tail. I used a dragging technique to create a branch and its front legs. I draw its head on last, right before using a milk drop to draw a pine nut.
Mr. Roots: How did you prepare yourself for this competition?
Bank SM: When I found out about the competition, the first thing I did was to check the scoresheet. At first, I was planning to use a fine line pattern because it was the favorite one in Japan. But, according to the scoresheet, multi-pattern would score higher. So, I tried to come up with much more creative pattern and that's when I decided to draw the squirrel.
I also practiced a lot. My practice program had six sets and I had to pour six times for each one. I dedicated the first three sets to drawing a leaf because it was my weakness. After 18 stable leaves, I started practicing other patterns.
Three days before the competition, I stopped practicing the leaf pattern and focused on the squirrel only. It came to the point that I felt confident every time I did it. So, when it came to the competition, I felt like I didn't have to compete with anyone, just doing as if I was practicing.
Mr. Roots: Do you know what scores you got at the competition in Japan?
Bank SM: Yes, I did. I got 51.3 points from 60 points in the first round and 52.6 points in the final round. I guess I scored best for creativity and originality because the squirrel design was quite new. I have to give the credits to a café in Chiang Mai for the original pattern which, as I said earlier, I simplified in order to make it my own.
In the final round, two Thai baristas scored higher than the Japanese baristas. It was probably because we understood the scoresheet, so we could plan our strategies accordingly.
Mr. Roots: According to your experience, what do you think is the most challenging aspect of latte art competitions?
Bank SM: Actually, I think all competitions are more about competing with myself than with other people. I remembered being very nervous at my first few events. My performance dropped dramatically, compared to what I could do at work. However, when each competition is over, I would try to understand my weakness and look for ways to improve. As for the Free Pour Latte Art Grand Prix OSAKA 2018, it took me three years to apply and finally be qualified for the competition. When the opportunity came, trying my best was the only choice.
Honestly, I think everyone at the competition are terrific at what they do. But at the end of the day, the winning title usually goes to the barista who is focused and confident enough to bring out their best performance.