If you've been to any of our locations—Roots Sathon or 111 Praditmanutham (also known as Roots Bakeshop)—you're probably familiar with the friendly, warm environment and simple designs that define them. Looking closely, you will see that every tiny detail is deliberate and has meaning.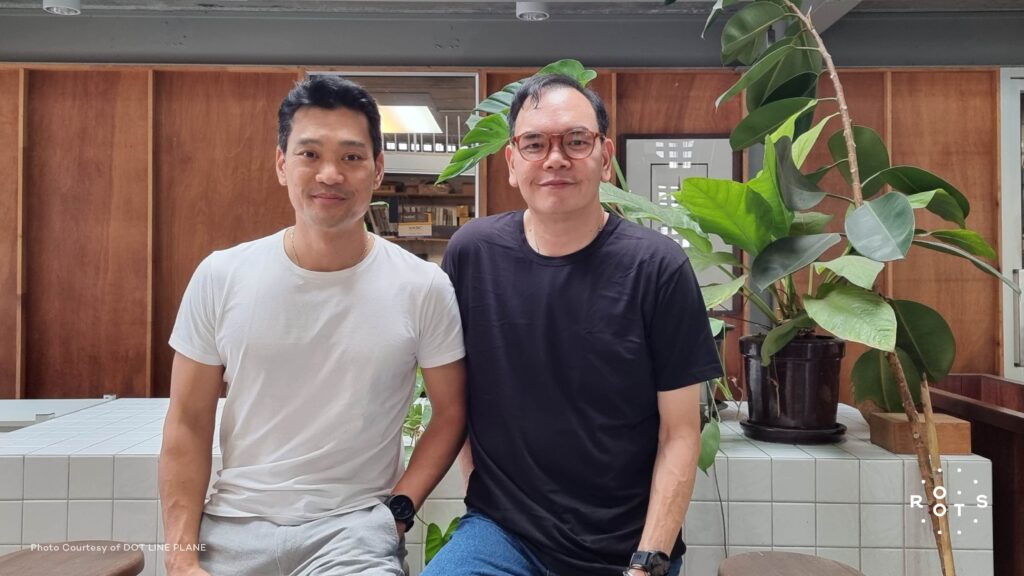 Today, we're inviting you to take a closer look at the interior features of Roots' stores and introduce you to the brains behind all 2 of our branches: DOT LINE PLANE, an interior design studio led by 'Mesa Nopakun' (Managing Director) and 'Mo-Poomsak Teankaprasith' (Design Director).
A ROOT OF DOT LINE PLANE: 'THE PURPOSE OF DESIGN IS TO MAKE THE ORDINARY EXTRAORDINARY'
It's been more than 4 years since we began collaborating with our friends at DOT PLANE DESIGN since the launch of Roots Sathon. For us, Roots' interior design and ambiance are essential pieces of the puzzle that complete our customers' coffee experiences.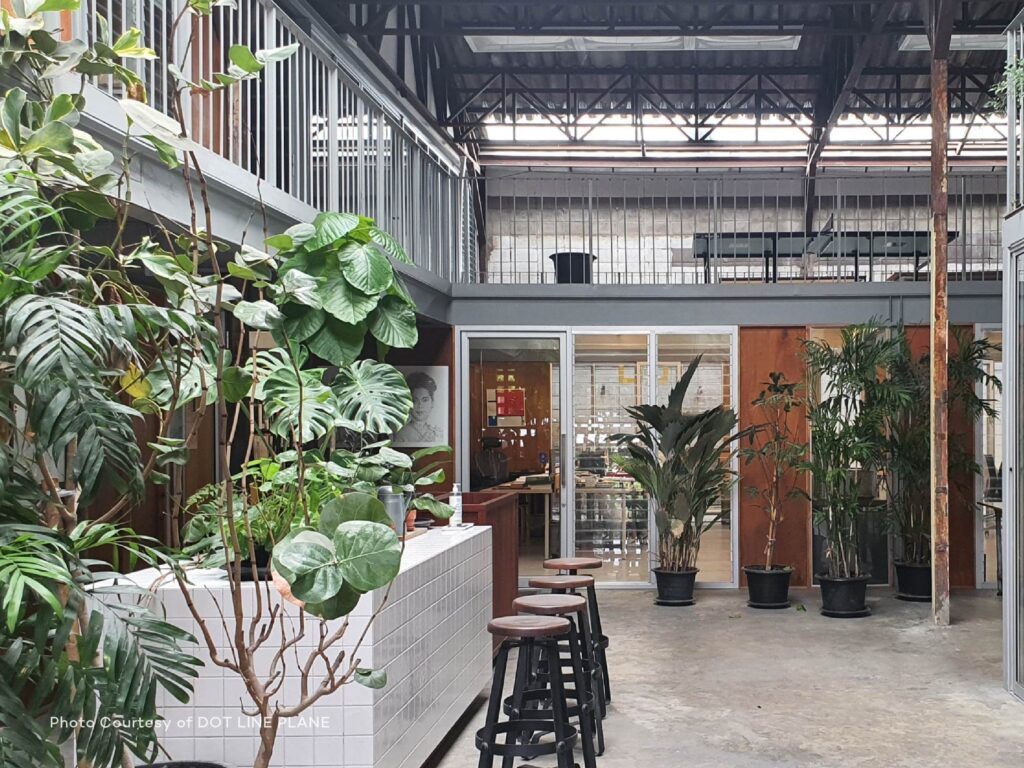 'THE PURPOSE OF DESIGN IS TO MAKE THE ORDINARY EXTRAORDINARY' is the phrase they use to describe their belief in their work.
"Design is the process of utilizing our artistic and creative vision to solve problems, and bringing those visions to life. I honestly think that starting with something ordinary is the key to great design." According to Mo, this faith in the "ordinary" has been inspired by his more than 20 years of experience designing for customers and brands across several industries.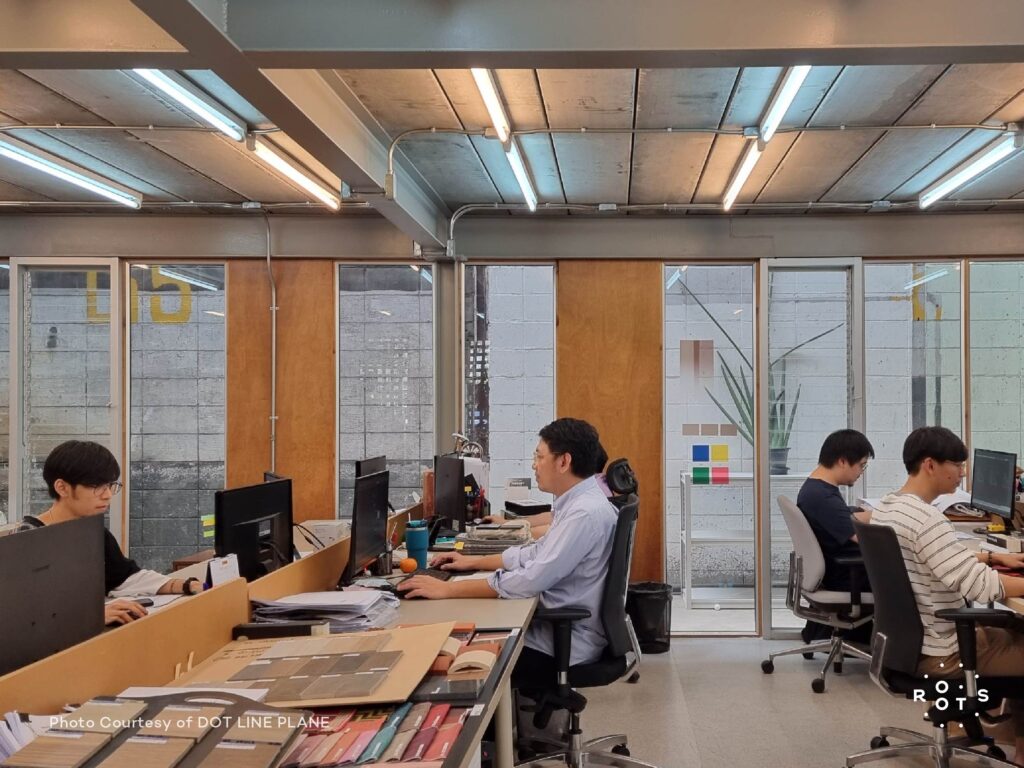 "Perhaps it's because, before I started my own studio, I had the opportunity to work with a variety of design aesthetics, from Maximum Minimalism to Victorian. My experience dealing with so many different styles has taught me that we must understand each style's basic, essential, or truth, regardless of what it is. Starting with the most ordinary and simple styles and making them extraordinary."
DIG DEEP TO SEE ROOTS
"Honestly, Roots and our studio share the same values. When I first got to know Roots as a brand, it was simple with depth. Whether it's their attention to detail, perseverance, or meticulousness, there is something unique and captivating in its simplicity. There has been chemistry between Roots and DOT LINE PLANE from the start, "claims Mo.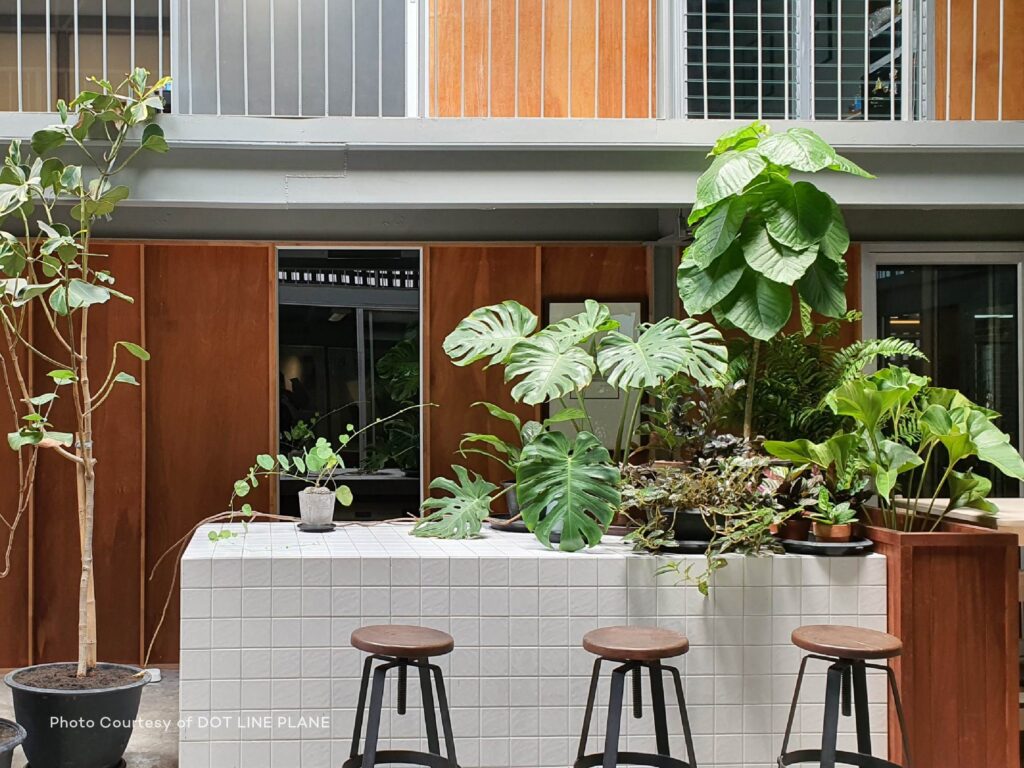 We can tell you that when working with Roots, our friends at DOT LINE PLANE pay great attention to the little details, whether it's trying to understand our work through questioning, working with our team to explore how we work with local farmers, or adapting designs to meet our requirements.
"We must consider the depth and complexity of the Roots brand because the term 'Roots' itself refers to the start of growth. What was it that Roots wanted to communicate? After some exploring, the answer I got was 'sincerity,' so I started by bringing Roots' sincerity to life in their designs because they are genuine and intentional in all they do."
REPRESENT ROOTS THROUGH DETAILS
"I wanted to convey honesty in its design as simply as possible by choosing materials that represent this and can be applied honestly," Mo reflects on the interior design of the Roots at Sathon branch. People in the design industry use the term 'Truth to Materials,' referring to the idea that materials should be used when they are most appropriate and baring their natural beauty, as is the case with Ramp Earth, the material used to build the coffee bar."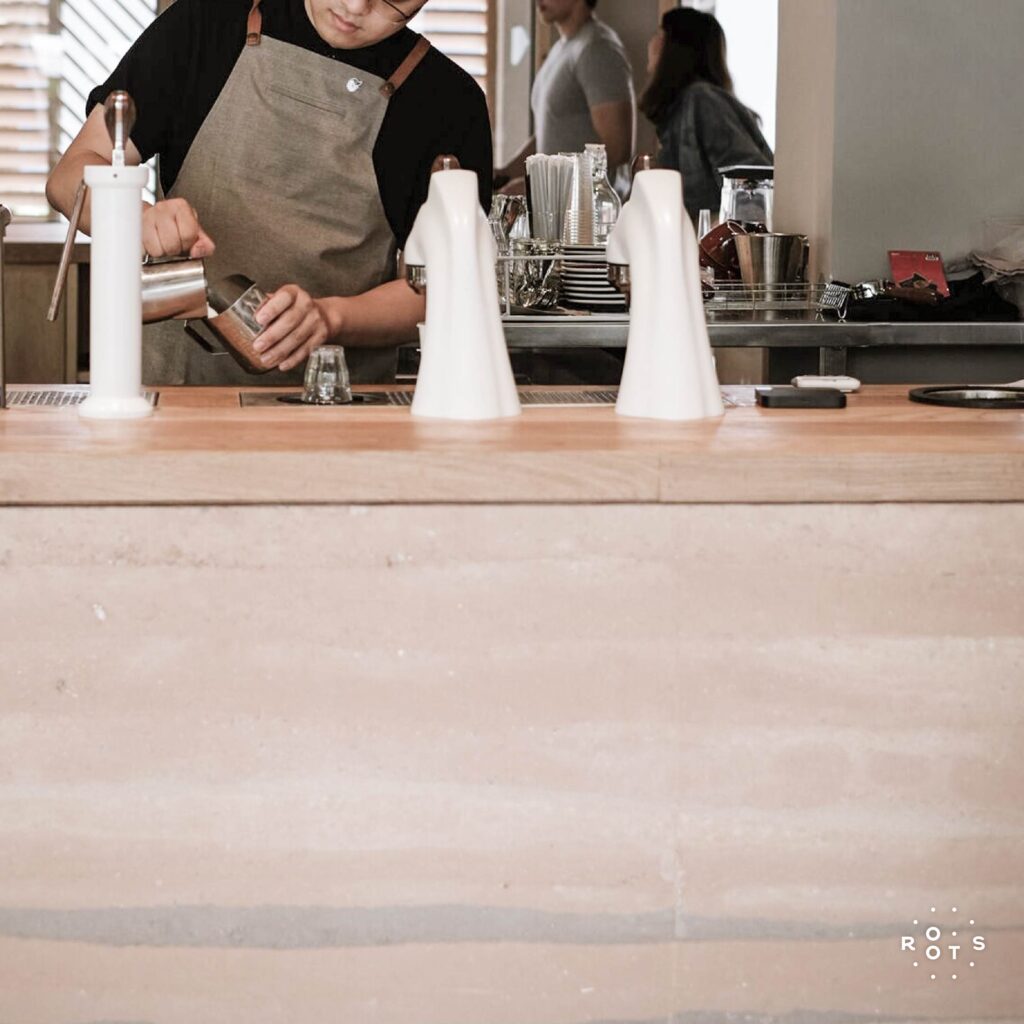 "We chose to use earth as our raw material because 'Roots' grow in soil. Ramp Earth wasn't commonly used in interior architecture at the time, but it fascinated me. I then consulted with my producers about whether this material could be turned into a coffee bar. Roots coffee lovers can also relate to the concept of 'Ramp Earth' because the coffee beans we all love come from plants originally rooted in the earth."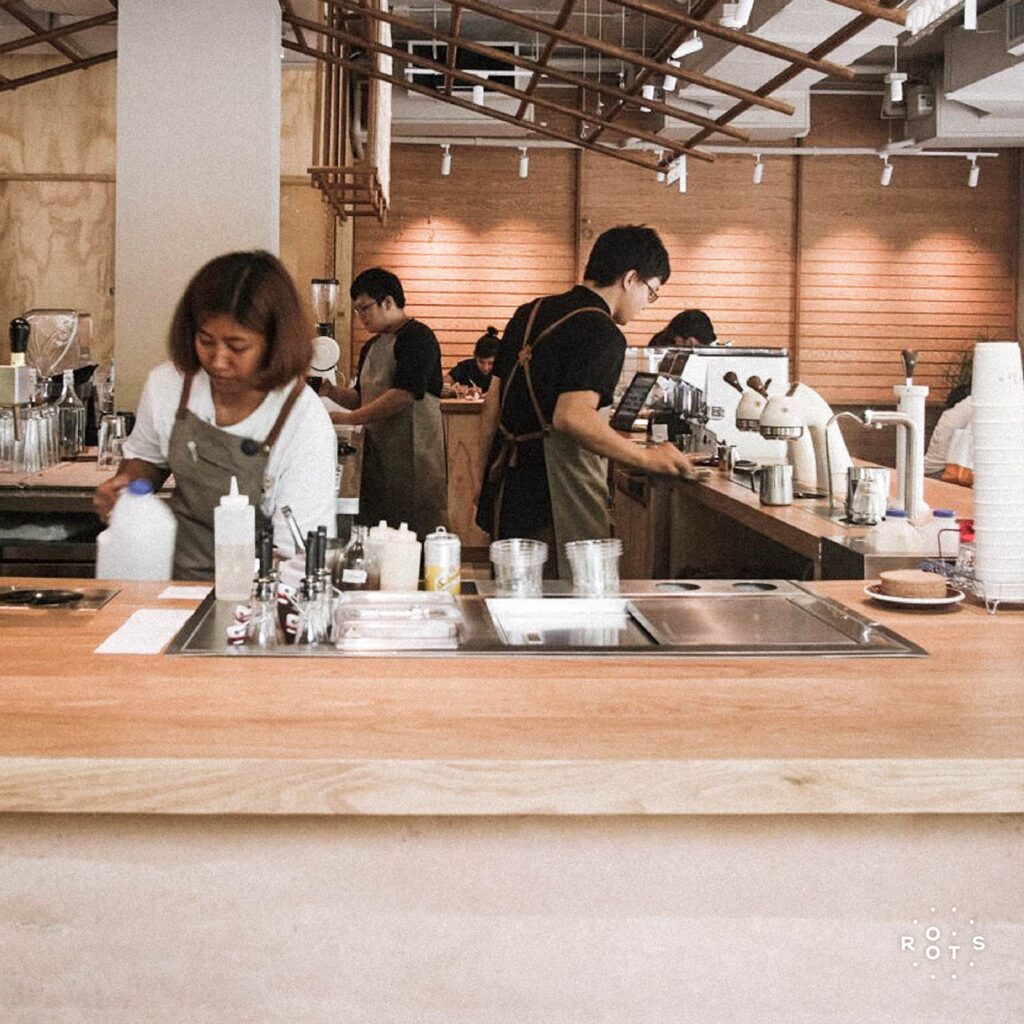 Wood is another element that adds warmth and creates an equally striking atmosphere. Mo purposefully used two types of wood, Teak and Pine Wood, to indicate that Roots is a Thai brand with a global presence. In addition to the interior or decorations, Thai handicrafts and basketry give the stores a modern spin by merging local and urban styles to express Roots' identity.
OUR NEXT COLLABORATION: ROOTS x DOT LINE PLANE IN BKKDW 2023
This year, DOT LINE PLANE has invited Roots to the Bangkok Design Festival 2023, which will take place in their home in Warehouse 26, a space overflowing with design offices.
"It started when A49 invited warehouse design studios to join the program, 49 & FRIENDS, under the concept of 'belief,' so we used our 'Extraordinary Ordinary' belief as the theme for DOT LINE PLANE.
"Because our office is a refurbished old warehouse with a simple and natural ambiance, visitors would think it's a coffee shop. We discussed turning our office into a big art exhibit, but our team believes that doing it alone might be less interesting, so we wanted to invite a friend or brand, such as Roots, to collaborate with us. I thought of Roots before anyone else because our beliefs are similar."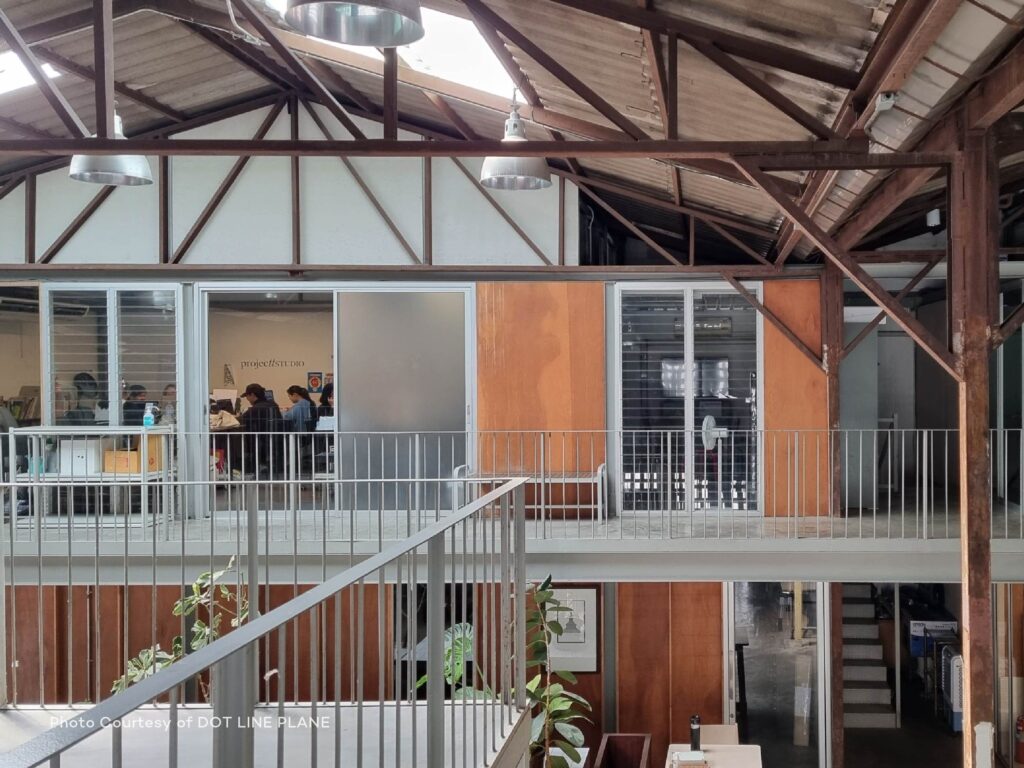 Roots is bringing over a coffee bar as part of a designer showcase for the first time, so for us, this is a very exciting opportunity. In this pop-up, we'll have 'Ordinary Extraordinary' coffee menus created just for this event! What will it look like? Wait for the surprise!
Meet Roots and DOT LINE PLANE at Warehouse No. 106, Warehouse 26, on February 10-12, 2023. Check out the schedule and learn more about the '49 & FRIENDS: Extraordinary Ordinary' at https://www.bangkokdesignweek.com/bkkdw2023/program/51469