To understand the origins of Thai coffee culture and how it became what it is today, we need to delve into the country's coffee history. Some say that coffee was first planted thoughtfully during King Rama III's reign, while others believe coffee drinking began in the Ayutthaya period.
Today, the Roots Coffee Education team invites you to journey into Thai coffee history by sharing stories and insights from two coffee traders who have been importing and exporting coffee in Thailand for over 40 years: Khun Waree Sodprasert, former president of the Thai Coffee Association, and Khun Ngern-Charoen Boonlarbtaweechok, from Charoen Thai Panich.
Join us as we explore the history of Thai coffee through their eyes as they share their experiences and weave together a storyline of Thai coffee's past.
THE 1950S AND BEFORE: BLENDED COFFEES THAT DEFINES THAI LIFESTYLE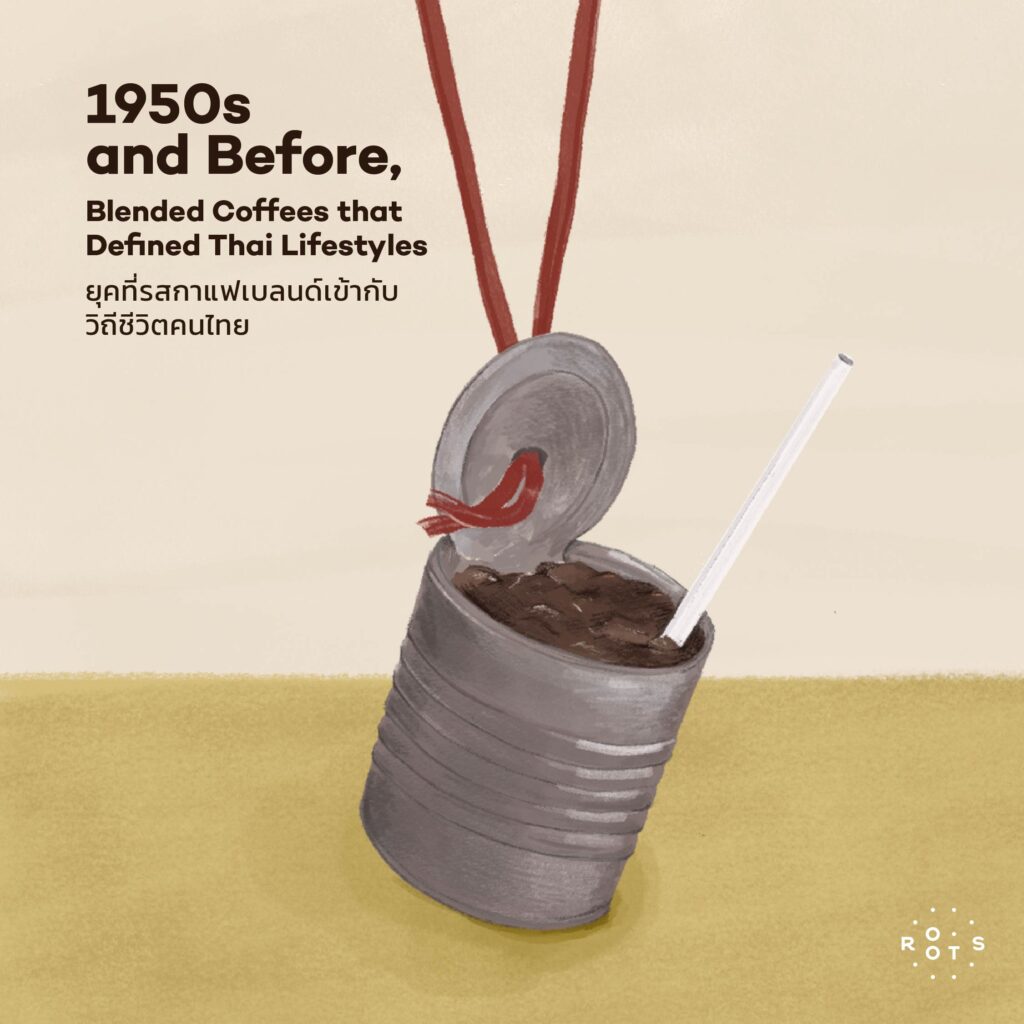 "When I look back on my childhood, I recall that people only drank plain water, and O'Lieng," says Khun Waree. "In central Thailand, we followed the trend of southern Thailand, where 'O'Ya' (hot black coffee with syrup) was popular. In the morning, people would mix condensed milk with O'Ya and bring it with them to the rubber plantation. After work, they would gather at the coffee council to socialize. Due to the hot climate in central Thailand, we added ice to O'Ya, and it evolved into O'Lieng."
During his childhood, Khun Waree would often be sent to buy O'Lieng. In the past, O'Lieng was considered a welcome drink and was typically enjoyed at home when guests visited. Unlike today, it wasn't a drink that could be enjoyed anywhere and anytime. Government officials would drink O'Ya to replenish their energy while working, and the taste of coffee slowly began to spread into people's daily routines. As O'Lieng became more popular, milk was added to give it a more premium feel. Wealthier individuals with higher social status would often drink O'Lieng with milk.
During this period, the coffee consumed in Thailand was all foreign. It was imported from Indonesia through middlemen in Singapore. "When we contacted them for sales, I found that most of the Indonesian coffee that Thailand imported was of low-grade quality. Around 25% of the beans were damaged or mixed, resulting in an unpleasant aroma when roasted. To mask the poor quality of the coffee, people would add butter, sugar, and other ingredients and roast it until it was burnt. This resulted in a bitter taste, which led to the common practice of adding sweetened condensed milk to the coffee to make it more palatable," and why many Thai people believe that coffee is inherently bitter.
"Coffee was considered a national drink back in the day. But when it became more popular, coffee became a price-controlled product by the government. At one point, one cup of coffee could not be sold for more than 1 Baht, but when coffee materials were costly, the state still fixed on this original price. This made it hard for coffee sellers, so they had to roast tamarind seeds along with coffee to reduce the cost. Unfortunately, the addition of tamarind seeds harmed the taste and aroma of the coffee, causing its popularity to decline, and many people turned to soft drinks instead."
After the introduction of instant coffee in Thailand, coffee shops recognized its advantages and decided to incorporate it into their menus. This was mainly due to the convenience and affordability of instant coffee, as it requires minimal effort and resources to brew. Coffee then regained its popularity among the masses, albeit in a new form.
1970S: ROBUSTA COFFEE EMERGES AS A CASH CROP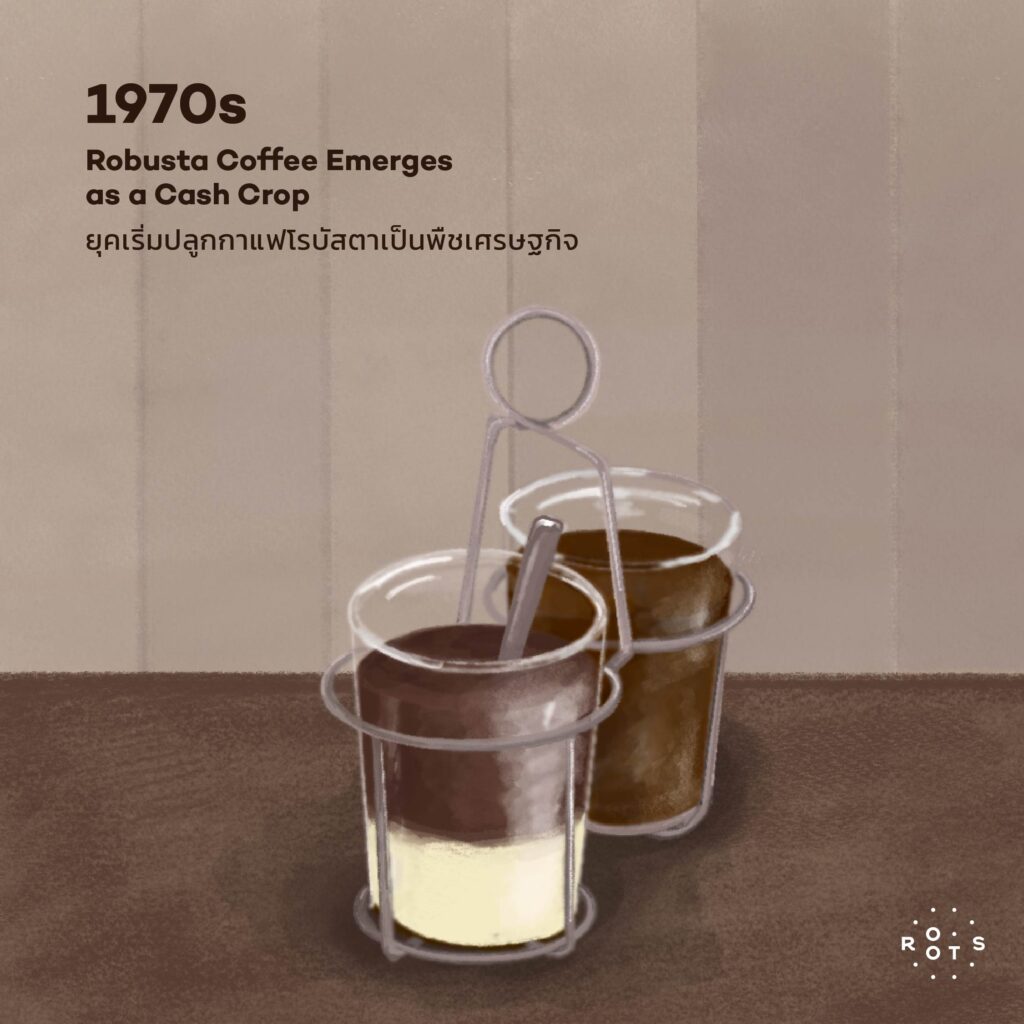 In the wake of coffee's rise to mainstream popularity, the Ministry of the Interior in Thailand promoted the cultivation of Robusta coffee in the country's southern region. A coffee roasting plant was established at Huay Nam Thai to ensure fair pricing and support for farmers. While Arabica coffee was also introduced, it faced more difficulties in gaining popularity due to its sour taste, which still needed to be familiar to Thai people. Additionally, logistical and transportation issues posed significant obstacles for the development of Arabica coffee during that time.
"In the early days of Thai Robusta coffee, it was relatively unknown, prompting the government to issue a requirement for traders to support local coffee by purchasing it from the designated roasting plant. To expand the market both domestically and internationally, traders also had to find ways to promote Thai coffee." Khun Waree even reached out to Singaporean networks to help sell Thai coffee. Eventually, he found an open-minded buyer willing to purchase coffee from a new producer like Thailand.
1980s, THAILAND'S COFFEE INDUSTRY GAINS RECOGNITION IN THE GLOBAL MARKET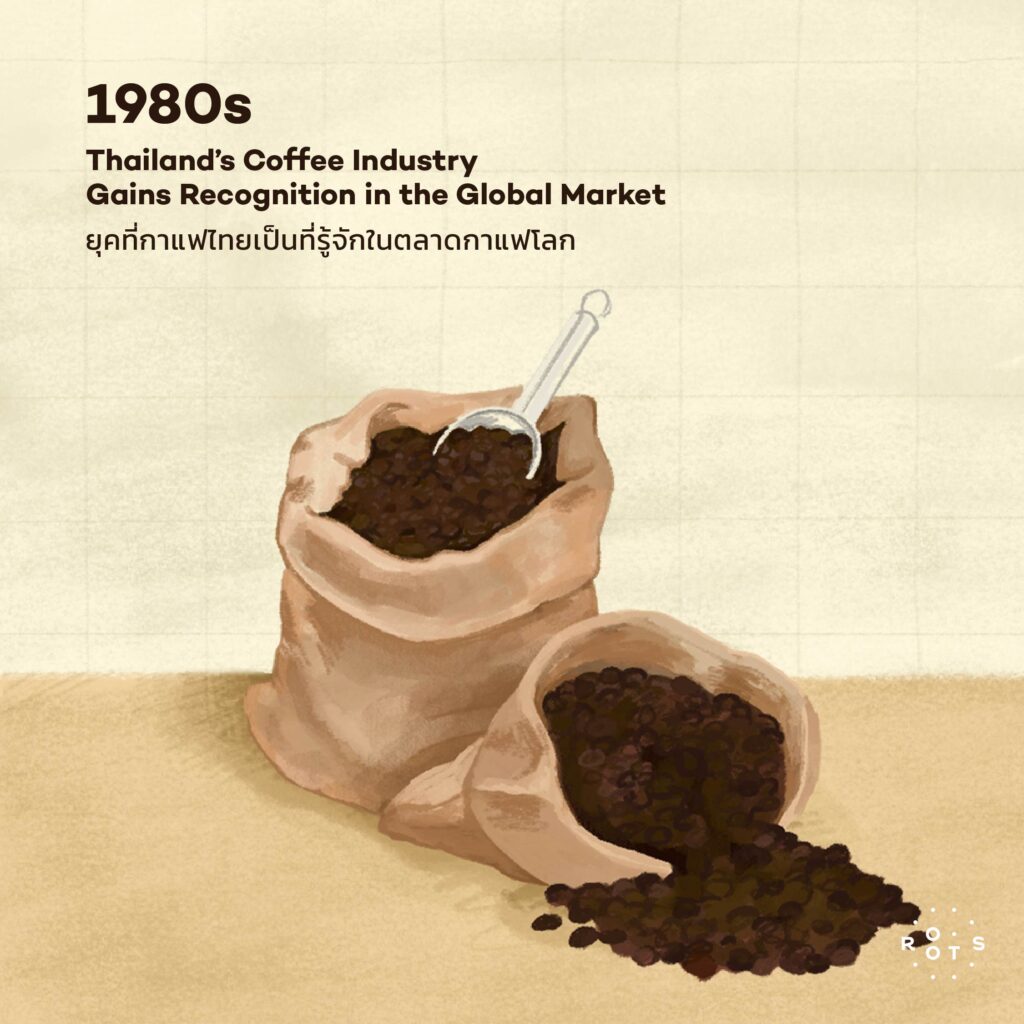 "When coffee prices on the global market were soaring, the International Coffee Organization (ICO) was established to regulate buying and selling quotas among coffee-producing countries. However, non-member countries were not allocated quotas, leaving their manufacturers vulnerable to price pressures from buyers. In response, members of Thailand's coffee industry formed the Thai Coffee Association in 1982 and sought assistance from the Ministry of Commerce to join the ICO. With the Ministry's support, Thailand successfully entered the global coffee industry, focusing on guaranteeing fair prices for farmers." Khun Waree recalls how the association also played a key role in exploring and evaluating coffee output to meet export quotas.
During this decade, Thailand achieved a significant milestone with its Robusta coffee. In some years, the country's exports to foreign instant coffee processing factories reached almost 100,000 tons!
"This generation successfully introduced Thai Robusta coffee to the world, putting Thailand on the map as a coffee-producing country," says Khun Ngern. "At the time, foreign trading houses prioritized closing deals with Thai coffee, given its early harvest season. This made Thai coffee the first choice of raw material for coffee factories worldwide, with countries like Indonesia following later. This accomplishment is a point of pride for our country," Khun Ngern added.
1990S, THE TRANSITION TO FRESH COFFEE CONSUMPTION IN THAILAND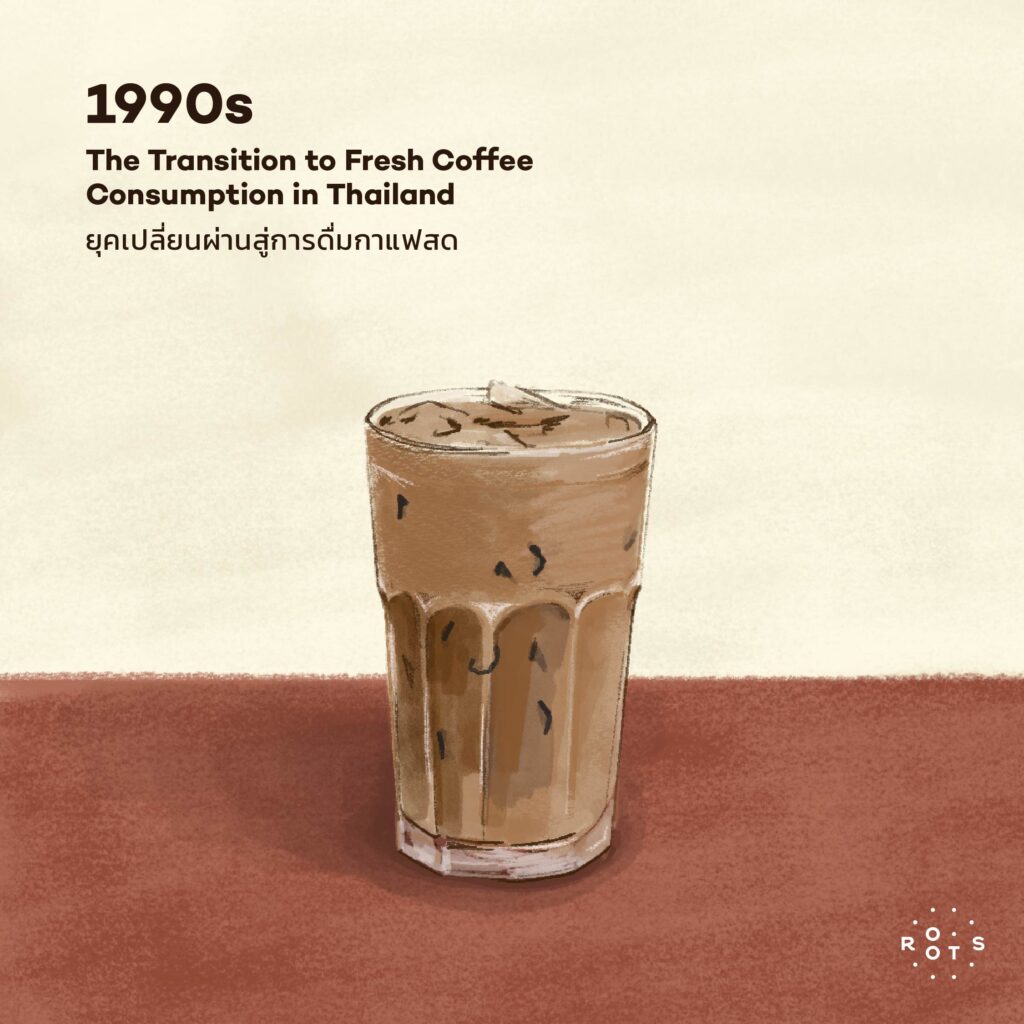 According to Khun Waree, "As economic and social changes occur, people become more discerning with their coffee choices. Instant coffee is a starting point for people to learn about coffee, and as they gain knowledge, they develop a taste for roasted or freshly brewed coffee."
In 1998-1999, after the Tom Yum Kung Crisis, global coffee prices took a significant dip. However, this was also when coffee chains like Starbucks and Thai coffee brand 'Baan Rai Coffee,' which had over 100 branches, began to emerge. Khun Waree and Khun Ngern recognize that these businesses significantly influenced coffee trends in Thailand.
During the Tom Yum Kung crisis, many people lost their jobs and struggled to find a way to make a living. To cope with the situation, opening a fresh coffee shop was seen as a low investment option, with only a small coffee maker needed to sell coffee at a low price of 10-20 Baht per cup for a significant profit. As the economy gradually recovered, more people began to drink coffee, and more cafes were opened. Thai people became more open-minded, and as a result, Arabica coffee gained acceptance and popularity, contributing to the thriving coffee culture we see in Thailand today.
"Thailand is fortunate because we have a complete coffee supply chain, from farmers, processors, roasters, brewers, to consumers. Observing the current context, Thailand is now considered a coffee processing country, where we import coffee from other countries and also have our own domestic coffee. As a trader, Thai coffee brands don't necessarily have to be grown exclusively in Thailand.
Thai coffee's distinct identity and differentiation sets it apart, which resonates with consumers globally. This is what excites us, and it's the future we want to see for Thailand," Khun Ngern concluded.