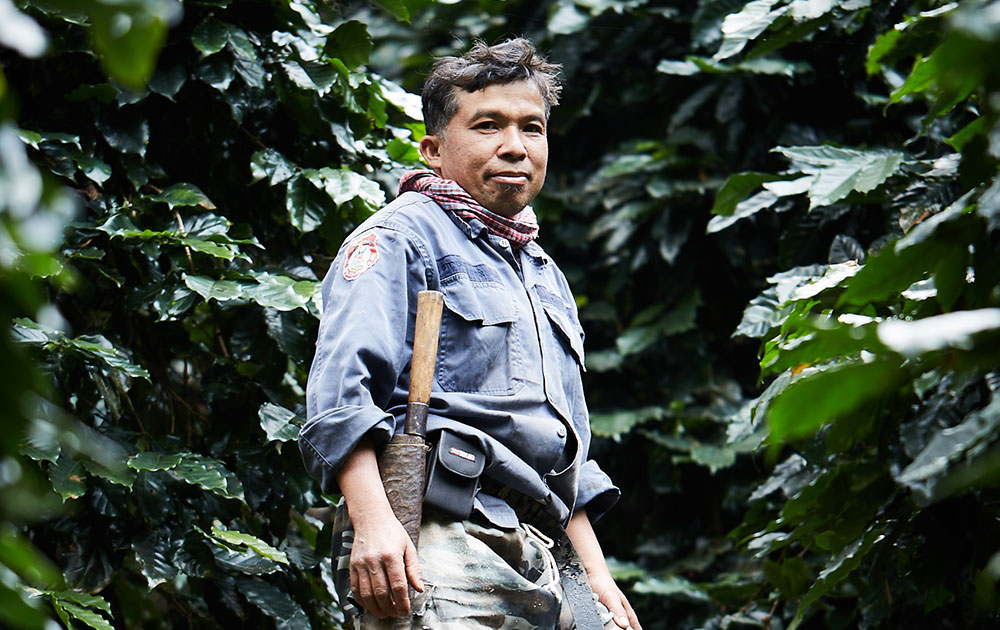 Mr. Roots: What were you doing before you became a coffee farmer?
P' Somjit: My main job was to make and sell a Thai snack called "miang", I also had a side job as a coffee farmer. Now, my sole focus is on coffee.
Mr. Roots: What do you like about this region?
P' Somjit: I love living in Khun Lao village because I get to be close to nature.
Mr. Roots: How and when did your coffee journey begin? How long have you been a coffee farmer and what makes you want to continue?
P' Somjit: I didn't really know much about coffee back then, but I was curious about it. So I just started to plant some coffee trees to see how it would turn out. My neighbours said it was a good idea to do something besides selling "miang". My coffee received an award from The Royal Project Foundation, which has encouraged me to keep doing what I do.
Mr. Roots: What does coffee mean to you?
P' Somjit: I'm not really sure what it means to me yet, but I hope that it will bring something good to us so that we can continue to improve the quality of Khun Lao village's coffee.
Mr. Roots: Where do you see yourself in 5 years and what do you think your coffee will be like then?
P' Somjit: I'd still be doing what I do. I have to and I know that I don't want to stop. I want to also study the market to understand the demand but also be able to keep developing the standard of our coffee.
Mr. Roots: What type of coffee do you like to drink?
P' Somjit: I drink black coffee with a little bit of honey. A little sweetness never does any harm.
Mr. Roots: If you weren't in the coffee business, what do you think you would be doing now?
P' Somjit: I think I'd still like to be a coffee farmer – in all honesty, I don't want to do anything else. I love nature and I enjoy being close to the forest. So for me, coffee is the answer. Maybe I'd consider being an avocado farmer. Either way, I'd still choose agriculture over any other business. It's something that I want to do for the rest of my life.
Mr. Roots: Is there anything you'd like to tell our customers?
P' Somjit: I really put my heart into my coffee farm. I'm happy to do what I can to provide customers with the type of coffee they like and adjust the flavor profiles to suit their taste.