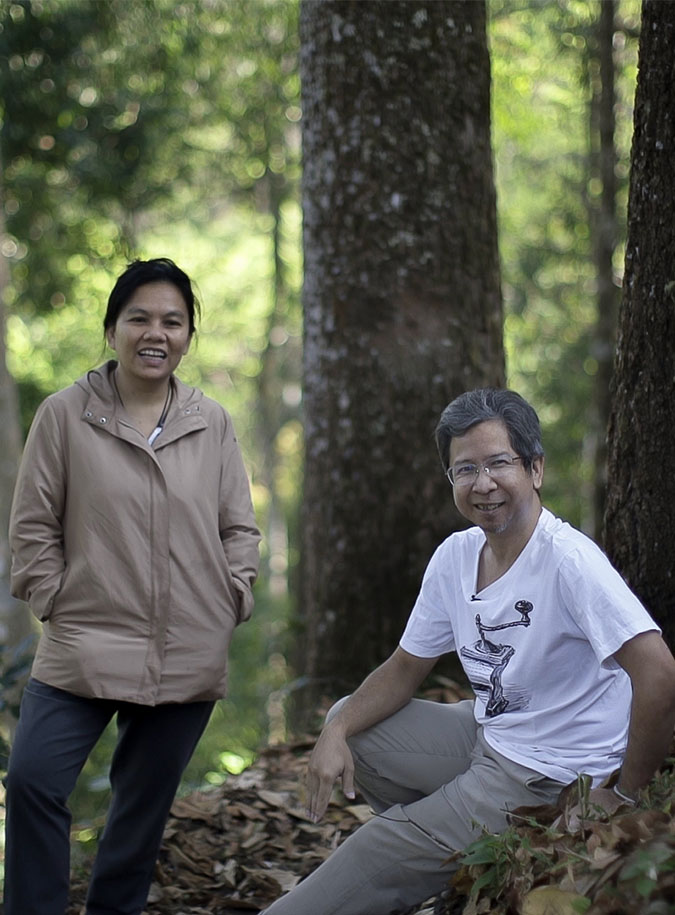 Mr. Roots: What were you doing before you became a coffee farmer?
P' Oh: We were rubber tree farmers in the south of Thailand before we relocated to Mae Kam Pong about 10 years ago. We were in awe of the untouched forest and the laid-back atmosphere of the people here – it really wasn't hard to fall in love with this place. We weren't planning to stay for long; after a few months in, we asked the villagers what they do for work and that's when we found out that most of them are coffee and miang farmers. We tasted the coffee ourselves and thought it was pretty good, but the locals here wanted to improve the quality of the coffee. And that's when we started researching into coffee and began collaborating with the young coffee farmers here.
Mr. Roots: What do you like about this region?
P' Oh: We like the weather and how quiet and peaceful it is up here. We also enjoy the unhurried pace of the village as a whole – you see, before this I we both had such busy schedules in Bangkok so we really appreciated the slow and relaxed lifestyle of Mae Kum Pong. The locals love what they do and are proud to see the village they live in being recognised as a source of great coffee.
Mr. Roots: How and when did your coffee journey begin? How long have you been a coffee farmer and what makes you want to continue?
P' Oh: In the first two years after our relocation, we began researching and producing a small batch of coffee to test ourselves. Then the following year (2010), we took it a step further and invested more and more of our time to improve the quality of the coffee and we've been doing it ever since! We're really proud of what we've achieved; the coffee we've produced tastes great – definitely much better than instant coffee you get in the supermarket! The forest takes care of our coffee, and that's what makes it so special.
Mr. Roots: What does coffee mean to you?
P' Oh: For us, coffee is something that can convey the passion and intention of the people who care for it right at the beginning of its journey all the way down to the cup of the customers who would drink it. It can tell stories about where it came from and what kind of processes it went through. These are the things that if you didn't pay attention to, could be missed in the blink of an eye.
Mr. Roots: Where do you see yourself in 5 years and what do you think your coffee will be like then?
P' Oh: We won't be going anywhere. We'll study more about coffee and finds way to give back to the community. Developing Thai coffee and helping young farmers who have returned back to the village are also our goals that what we'd like to keep doing. It's important for us to exchange knowledge and pass on the know-hows, so that the new generation can continue their coffee journey.
Mr. Roots: What type of coffee do you like to drink?
P' Oh: We like drinking our own coffee – it's mild with a little fruity acidity. It also gives us the chance to enjoy our hard work and see the development that's been happening over the year.
Mr. Roots: If you weren't in the coffee business, what do you think you would be doing now?
P' Oh: Oh this is quite a hard question! But I really enjoyed social work when I was younger, so I guess it would have to be something along that line.
Mr. Roots: Is there anything you'd like to tell our customers?
P' Oh: We'd say, you're in luck! Because not a lot of people get to drink coffee that was cared for by nature.