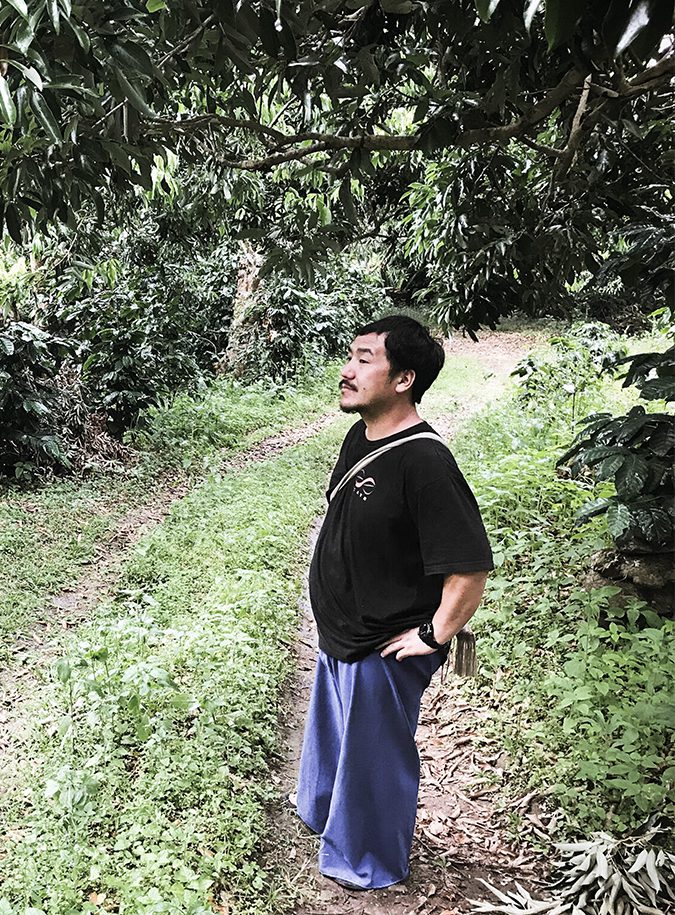 It's been over 8 years to date since P' Chatree set his eyes on leveraging coffee as a tool to better the lives of his family and fellow farmers in the community.
"Coffee is everything for Khun Chang Kian Village, we were born and raised into agriculture. When we started using chemicals, our lives went backwards. Coffee, on the other hand, has been around for a long time and it only took a quick dusting up to discover that Khun Chang Kian's life revolves around it. Coffee sustains our lush forests which will be passed down through generations."
In our perspective, Khun Chang Kian Village is one of the coffee plantations that supported the expansion of Thai specialty coffee. The intentions of the new generation of coffee makers, such as P' Chatree, demonstrate that good coffee isn't just about being meticulous, but also about having the courage to explore new things.
Mr. Roots: Before developing Coffee, what did you do?
P' Chatree: Before processing coffee, I was a Tourist Service Center employee stationed at a dessert shop in Nimman, Chiang Mai, and I also used to sell insurance. During this time, I developed the mindset that all humans were created differently and at a certain time we'll reach a point where we're happy and feel like it's enough. That's when I decided to go home to Khun Chang Kian Village where I did everything in the agricultural space as a career.
Mr. Roots: You were like a Jack of all Trades trying out everything, how did you settle on Coffee?
P' Chatree: I tried processing coffee cherries because we already had coffee plants in our garden. For the first two years, I didn't give it much thought until I met a group of people in the coffee industry, and we talked about specialty coffee. That's when I discovered that there are a variety of processing techniques that add a lot of value to coffee. Following that, I set out to learn about how specialty coffee was made, participated in coffee-related activities, and began talking to people about unique processing methods in order to gain as much knowledge as possible in all areas.
Then I set a goal of attracting more people to come here because Khun Chang Kian is already very close to the city. Now, if I drew them in with the view and mountains, that's the same as other Doi's – but if we had coffee, that's our selling point. It becomes the perfect place for people who love both nature and coffee.
Another factor is that growing coffee plants has an impact on everything in nature. Coffee plants flourish in the presence of other plants, so by growing coffee, we are promoting forest growth, conservation, and preventing 'Doi Hua Larn' (when there are no forests on the top of the mountains). Coffee as a business also improves the standard of living for everyone on the Doi, not just the coffee processors in Khun Chang Khian.
Mr. Roots: Once Khun Chang Kian Village became famous for its Coffee, how have your goals changed?
P' Chatree: We know the majority of what we are supposed to know. My current goal is to establish an image and reputation for Khun Chang Kian coffee using a simple and unique processing method that can be passed down from farmers to their families without requiring huge investments. This, like the Kenya Washed process, will be a distinguishing feature of Khun Chang Kian's coffee, reflecting on the entire community.
I don't want to be the Village's "Coffee Processor" or the one who gathers the cherries from all the families; instead, I want people to learn how to process the cherries themselves. Buying coffee from each household for 40-50 baht per kilogram makes no sense because the actual cost of cherries is not that high. It makes more sense and is a more practical approach for farmers to add their own markup after having processed the coffee themselves.
We, on the other hand, serve as a middleman, assisting them in developing their coffee, identifying the correct market for it, and determining what direction the coffee should take in order to sell to consumers with specific demands. I'm sure they'll make a name for themselves if they do it well, just like I do with my coffee at Roots.
Mr. Roots: What do you get from doing this?
P' Chatree: I'm not sure yet (he laughs). I mean, processing a lot of coffee can make you a lot of money, but then you become so busy you'll have no time to spare. If everyone could have the opportunity to make money, it would be better than doing it all alone because nowadays there is a lot of inequality gap.
Mr. Roots: To this day, have you seen the inequality gap decrease?
P' Chatree: It's improving, but it's still not quite apparent. There are people who make a solid living, but there are also families who struggle to make ends meet on their current wage. It all depends on the mindset of each person.
Mr. Roots: We understand that you tried many methods of Coffee Processing, what's your latest one?
P' Chatree: Before this, we were into the Honey process, but when we actually did it we found that it was difficult to control the quality of the coffee because the coffee cherries still have sugar in them (Honey Processing does not remove the mucilage unlike the Washed Process, so the coffee cherries are still sweet), making it difficult to know when to stop processing. Another reason is, if it's a process that's tough for me, it is likely to be difficult for my fellow Villagers, and they may not have as much investment as I have. There should be a way for everyone to start the Coffee Processing journey from the beginning, but if it gets harder it doesn't mean we're going to stop (he laughs). I'm enjoying the Honey Process, but not as much as Washed because like I said, I want coffee from Khun Chang Kian to be like the Kenya Washed.
Mr. Roots: Apart from the mission to find an easy Processing Method that can be done by anyone, does Khun Chang Kian have any other obstacles?
P' Chatree: Right now, everything is going smoothly, except for sometimes when there's a Moth problem. Moths come in and eat the coffee cherries, and the only way to get rid of them is to cut down the entire plant, which we can't do. On paper, it appears that the best way to solve this problem is to collect all of the cherries from the garden, but we don't have enough manpower, so we can only collect some of them. The Moth moves from place to place, and when the cherries return, it returns. So, for the time being, I believe the grading we did will be beneficial.