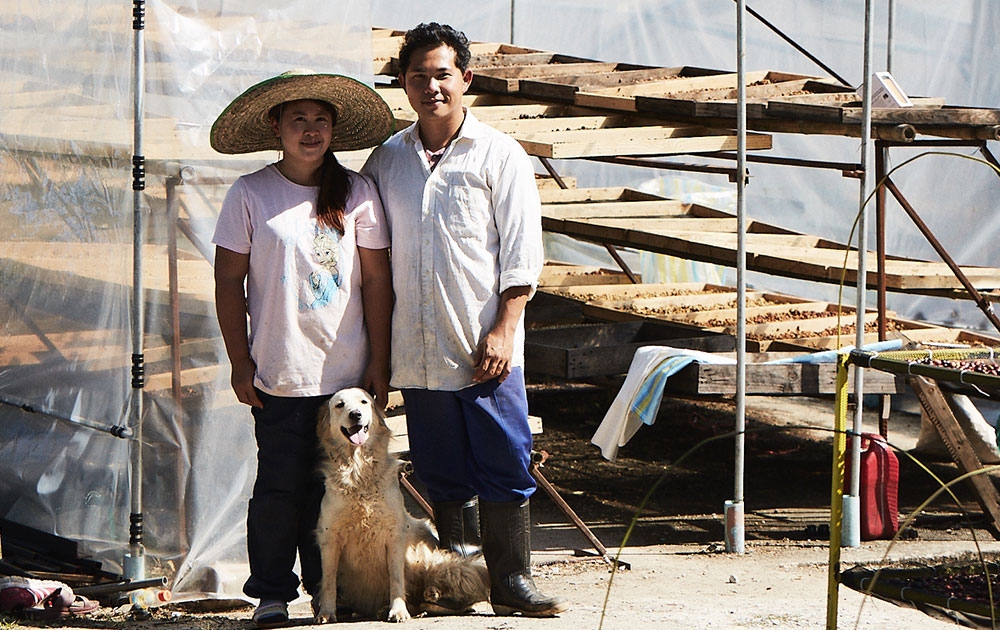 Noi and Aoy are a lovely couple from Baan Pong in Doi Saket, Chiang Mai, who share a passion for coffee processing. They were one of the first coffee farmers Roots had the pleasure of working with
Almost 10 years ago, before Nui and Aoy started processing coffee, Nui was an Engineer who traveled frequently to the north and south of Thailand. Nui and Aoy have known each other since their young school days, and after deciding to start their lives together, they both decided to return to their hometown for stability and with the intention of starting a family. Their dream is to process coffee and to improve the quality of the coffee from their family's farm, so they placed their hopes on coffee processing.
Let's get to know these two processors who believe that coffee is both fun and fulfilling for their families.
Mr. Roots: How did you discover your passion for coffee processing?
Nui: We want to make farming a sustainable career. We also understand the procedures that go into making a cup of coffee, and we know that if we don't put in the time and effort, we won't receive the desired outcomes. If we can do very well in all steps, we'll get amazing results. The more we endeavor to learn new techniques, try new things, and share our perspectives with others, the better our coffee will become.
Aoy: Nowadays, we are focusing our efforts on understanding the demands of Thai customers by following various coffee shops and talking to shops around our home. Even responding to customer requests for a specific sort of coffee aids us in determining what type of coffee the market is looking for. For the most part, we produce Washed coffee in bulk or special micro-lot coffee with unique flavors. Above all, we maintain high standards in all our coffee.
Mr. Roots: What's the most challenging part about coffee processing?
Aoy: The toughest part now would be drying the coffee. We have a lot of experience and are pretty much in control of the earlier steps, such as collecting the coffee cherries and fermenting them. When it comes to drying coffee, a lot of it is dependent on natural factors, and with the volatility of weather conditions, it takes a lot of our energy. Our farm dries coffees in layers, so on sunny days, the coffee is dried on the lower levels first to avoid overexposure to the sun. If the weather changes, we move the cherries around to make sure they get enough sun and the appropriate amount of humidity. Therefore, the drying step is one that we need to pay special attention to.
Mr. Roots: After producing coffee for so long, is processing coffee with new techniques still enjoyable for you?
Aoy: I'm still having a lot of fun. Some may perceive it as more work, but when it comes to processing coffee, honestly, problems show up all the time. So we consider these new issues that arise as a result of experimenting with coffee processing methods to be a challenge, and we want to overcome the limitations that we face.
In practically every process, issues arise. When we buy cherries from villagers, for example, they may not choose the best cherries or leave them overnight before bringing them to us, causing difficulty during the fermentation process. Sometimes, we don't have enough fermenting tanks or we can't always wash our cherries in time, so we design processes that are unique to us (laughs). Last year, we didn't have enough drying room for our Washed coffees, so instead, we put them in a mesh bag and hung them beside the Solar GreenHouse, leaving the door open for the air to flow. As a result, we got coffee with a good body and a touch of sweetness – it was great!
Most of our customers buy coffee in bulk, so when we experiment with different processing techniques, we don't just want to see how it tastes, how high the score is, or if there's anything special in the coffee; we want to see if it's a processing technique that we can scale up and ensure consistency for every lot we make.
Mr. Roots: Since you explored fermenting coffee with Yeast recently, does it answer your needs?
Aoy: We discovered that the outcomes for each lot were always different when Roots introduced this experiment to us to try 3 years ago. It could be due to the fermentation temperature or the coffee's positioning. It's still a process that excites us to see how the results turn out, whether they are similar to last year's or not, or whether they are better and in what ways. We're still experimenting around with it, but we've got Champagne Honey for everyone this year!
Mr. Roots: Why is this yeast fermented coffee called Champagne Honey?
Nui: From the moment we fermented the cherries. When we added yeast in, there were bubbles shooting up like those found in champagne and the color was also similar.
Mr. Roots: What makes you not want to give up on experimenting with new coffee processing techniques?
Aoy: We both agree that if the results vary every year – presuming it's Washed coffee – the flavor will always be different than the year before, depending on the weather and how it impacts the coffee cherries in that year. What we can guarantee is that the outcomes will improve year after year, whether it's in terms of taste or something else. One thing is certain: the coffee's quality and standard will never decline because of the experience we gathered in coffee processing, and we will continue to do that.
Mr. Roots: You've been in the coffee business for almost 10 years, what does coffee mean to you?
Nui: Coffee helps us discover new things in life and spend time with our loved ones. It's a family business that lets us interact more with the people around us, and every process of coffee-making creates jobs for people in the community. Now that we have children, this career provides us with the time to spend fully raising our children.
Mr. Roots: Does full-time parenting change your career goals in any way?
Aoy: We have more passion for work now that we have children. It's a challenge how we can manage raising our children while making coffee at the same time. This is a very flexible job; however, it is difficult when we process coffee in Doi Saket. When it is not coffee processing season, our family will relocate to Mae Rim in search of alternative sources of income. During this time, we consider what our children's education will look like in the future. We're considering homeschooling them because we believe they don't need to be tied to a traditional schooling system, and due to COVID-19, schools are closed. We can teach our children things other than traditional book studies when we have a lot of time for them.
Mr. Roots: What's the atmosphere like in your home right now?
Aoy: Many people have returned home; lots of children and people in our age range who came back to open a coffee shop in the mountains and process coffee. Working in different provinces may not be the preferable option for many people, especially given the current economic climate in which some people are struggling to make ends meet. In the end, people choose to come back! Our family wishes to serve as an example to others, demonstrating that it's possible to have income, stability, and time for family. We're glad people have come to us for advice, it's as if all our hard work and effort over the last 10 years allows for more people to feel happy about coming home, to live a more free life, and to spend more time with their families.