Look inside the fermentation space at Three Goats Brewery, a brand pushing the boundaries of Kombucha to create exciting, avant-garde, and delicious flavors. If you're a regular customer at Roots, you might have tried our 'Coffee Kombucha,' a delicious collaboration between Roots and our friends over at Three Goats Brewery, a Kombucha brand by 'Praew-Varunthip Towanasutr' and 'Nott-Natatchakorn Thanapubodee'.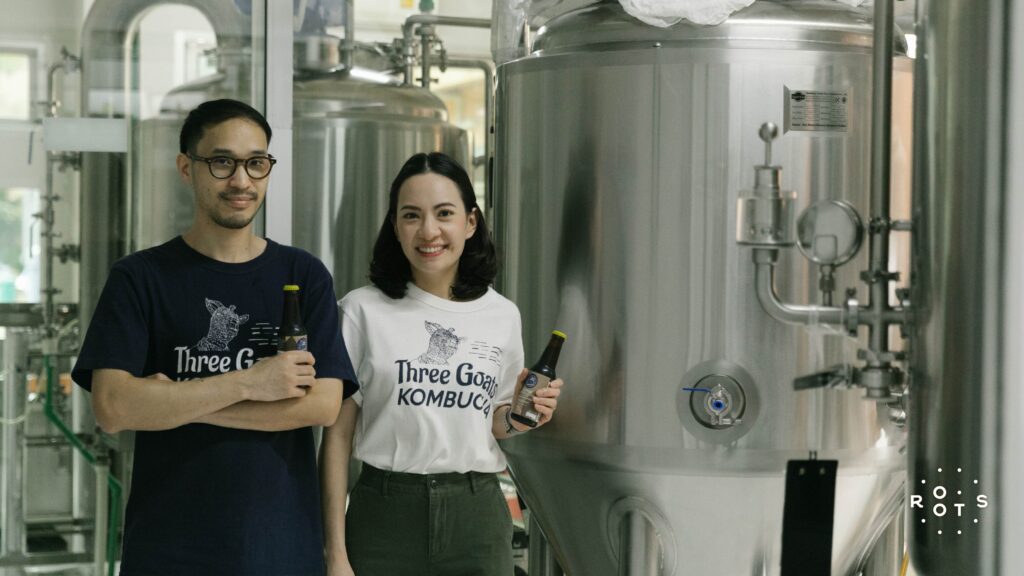 You may be already familiar with this fizzy and refreshing drink that boasts the benefits of both probiotics and caffeine. But have you ever wondered about the creative minds behind this beloved Coffee Kombucha? Today, Roots is excited to introduce you to two Kombucha enthusiasts dedicated to experimenting and crafting delicious, everyday Kombucha: Praew and Nott.
So, grab a bottle of the cold and refreshing Coffee Kombucha, open it up, and take a sip as you delve into our conversation with the minds behind Three Goats Brewery.
THE BEGINNING OF THREE GOATS BREWERY
Praew fondly recalls the day when she and Nott discovered their mutual love for Kombucha at a craft beer bar located in Soi Si Bamphen – a bar owned by none other than Nott himself.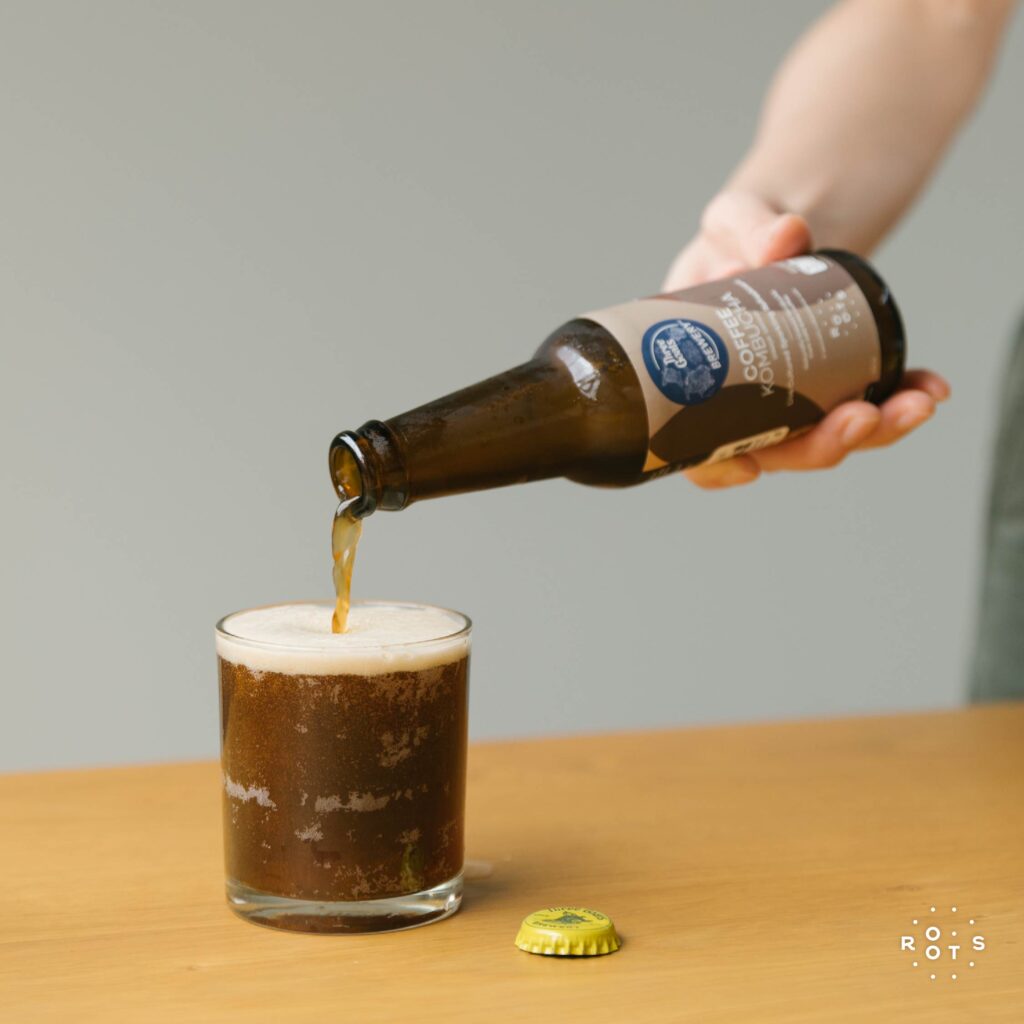 "I tried Kombucha for the first time in America, and it tasted a little strange initially, but it was surprisingly delicious and opened my world to new flavors. When I returned to Thailand, I found a book with a recipe for a Kombucha I had tried, and I wanted to try making it. Around the same time, I met Nott, who had a lot of experience brewing beer, so I invited him to make it with me. That's how our love for brewing Kombucha began!" says Praew.
Nott shares, "I've always loved craft beer, and after trying kombucha, I noticed that it had a similar texture, body, smell, fizz level, or even color tone similar to beer. People were out there applying their beer brewing knowledge to Kombucha, and I became interested in trying it out myself! I know that there are people around the world who are doing the same thing." Praew then adds, "Six years ago, it was challenging to start making Kombucha because we didn't have a Scoby, and no one was selling it at the time. We were even considering ordering it from America! Luckily, one of Nott's friends also experimented with Kombucha fermentation and shared a Scoby with us. That's how we began experimenting with making Kombucha on the mezzanine floor of our shop and selling it on-tap."
THE DEBUT BATCH OF KOMBUCHA
Praew laughs as she recalls, "When we made our first batch of Kombucha, we only produced a small amount. While we thought it tasted great, our friends didn't quite understand it."
"Not surprising," adds Praew, "since Kombucha was still a very new and unfamiliar drink to most people in Thailand at that time. So we worked on developing the flavor to make it more palatable. When you make it at home, it can have a vinegary taste and a not-so-great smell. We worked hard to reduce these unwanted flavors and introduce other delicious aromas that would make the drink more appealing to the senses."
After their initial success, Praew and Nott started experimenting with creating new flavors for their Kombucha. They would taste-test each batch and get feedback from friends until they received overwhelmingly positive responses. Eventually, Nott decided to close his bar business to fully commit to building the Kombucha brand.
From the start, Three Goats Brewery wanted their kombucha to be seen as an aromatic, delicious, and refreshing drink that anyone could enjoy. And the bonus? Drinking kombucha is great for your health!
BLENDING TRADITIONAL FERMENTATION AND THE AESTHETICS OF CRAFT BEER
If you've tried Three Goats Brewery's Coffee Kombucha or any of their other flavors, you may have noticed that it has a concentrated appearance when poured into a glass. It also has an aromatic smell, texture, and fizz, similar to craft beer when you take a sip. It's something that even beer lovers will find fascinating! This unique character is all thanks to the trial-and-error experimentation of Praew and Nott.
"When making traditional Kombucha, you drink it straight after fermentation without adding water or fruit juice," explained Nott. Praew continued, "There are different ways to make Kombucha, depending on the preferences of the maker and drinker. Some people add fruit juice for flavor, while others make it more concentrated and mix it with water before serving. The latter saves time. Our fermentation style is 100% infused with raw ingredients to bring out the best natural aroma of each flavor. We don't use synthetic scents or extra sugar."
"What we learned from the way we brew craft beer is how to create aroma. At that time, there was not much knowledge about making Kombucha. However, we had accumulated knowledge for a long time in making craft beer. So our strategy was to decide when and which raw ingredients to add and which would complement each other. We also applied the method of making fizzy beer to Kombucha, but not all methods of beer work with Kombucha, so we had to keep experimenting," Nott explained.
CREATE FLAVORS BY USING PREFERENCES AND FORGOTTEN INGREDIENTS
According to Praew, if you're new to Kombucha, a great starting point is their 'Honey Lemon Hops' flavor, which has a mild and easy-to-drink taste. However, if you're feeling adventurous and want to try something more exciting, Praew suggests trying the flavor inspired by the herbs used in Tom Yum, a dish she personally loves.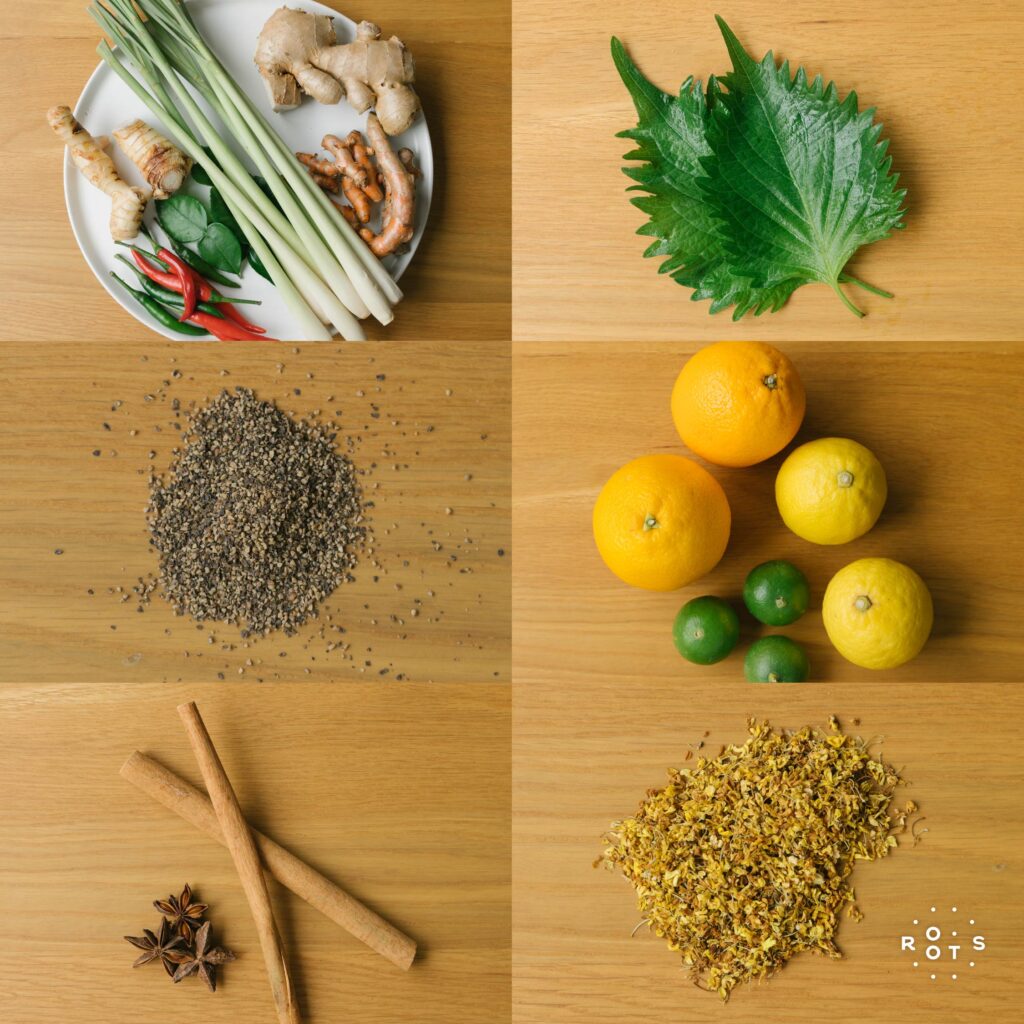 "I get a lot of inspiration for our flavors from my personal preferences or when I discover a new herb that I like, I try it out. For example, our seasonal Bitter Orange flavor came from me loving its aroma, which is like a mix of grapefruit and kumquat. I found a source for Bitter Oranges online from a grower named P' Dam who grows them in the lush forest. When I use it in our kombucha, I try to let people know it's made with Bitter Orange. Many people also sprinkle it on top of crispy noodles. Bitter Orange has so much character, creating a delicious and unique drink!"
"We also like to explore ingredients that many people overlook, such as shiso leaves which are often left aside when served with sushi. But shiso is actually a type of Japanese mint with a refreshing taste. So we decided to mix it with pickled plums, a popular ingredient in Thailand. When combined, they create a deliciously refreshing flavor that we call Shiso Plum."
"We feel a kinship with Roots as we love trying new things and experimenting with natural flavors and aromas to enhance our drinks. I believe it's exciting for our customers to experience and appreciate these unique combinations," Praew shared with a smile.
COFFEE KOMBUCHA: THE MOST CHALLENGING EXPERIMENT
"Since all of our Kombucha is made with tea, coffee is a new and exciting ingredient for us! We spent years trying to make Coffee Kombucha on our own before we met Roots and had almost given up," Praew said.
"We believe that to achieve a delicious final product, the ingredients and the process used to create it must be of the highest quality. That's why we experimented extensively with Kombucha tea to find the perfect combination of flavors and ingredients. However, when it came to using coffee, we faced some difficulties, and the results weren't quite what we had hoped for," explained Nott.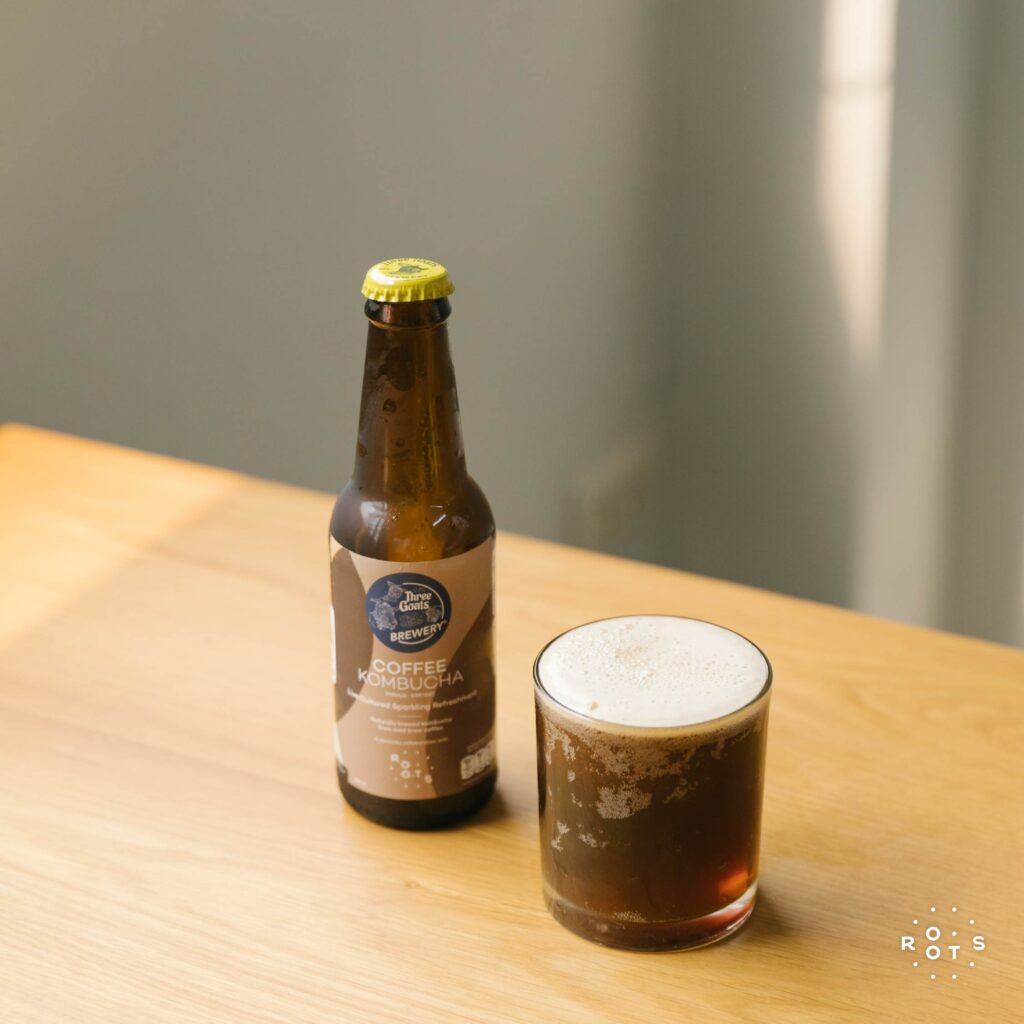 "One of the biggest challenges we face when working with coffee is the oil content. Unlike tea leaves, coffee beans contain a lot of oil, creating too much foam and making the process more difficult. However, we've worked hard to find ways to overcome these obstacles and maintain the quality of our Kombucha. Despite the foam, the taste and quality of our product remain great."
"Now that we're working with coffee in Kombucha again and have Roots roasting it for us, it's a match made in heaven! Our job is to combine the two to create a delicious and easy-to-drink Kombucha that balances the sweetness and sourness of coffee and kombucha in the same glass. After much experimentation, we're thrilled to have created a Coffee Kombucha that our customers love and have even switched to drinking regularly. They love that it's a two-in-one drink, providing them with both organic acids, probiotics, and the same amount of caffeine as a cup of coffee. Plus, it's great to enjoy both drinks in one, making their lives easier (laughs)."
"Creating Coffee Kombucha has been a challenging journey for us, but we've finally perfected it! For all the coffee lovers out there who enjoy Coffee Tonic or already drink Kombucha, you definitely shouldn't miss this unique combination. Give it a try!" Praew concluded with excitement.