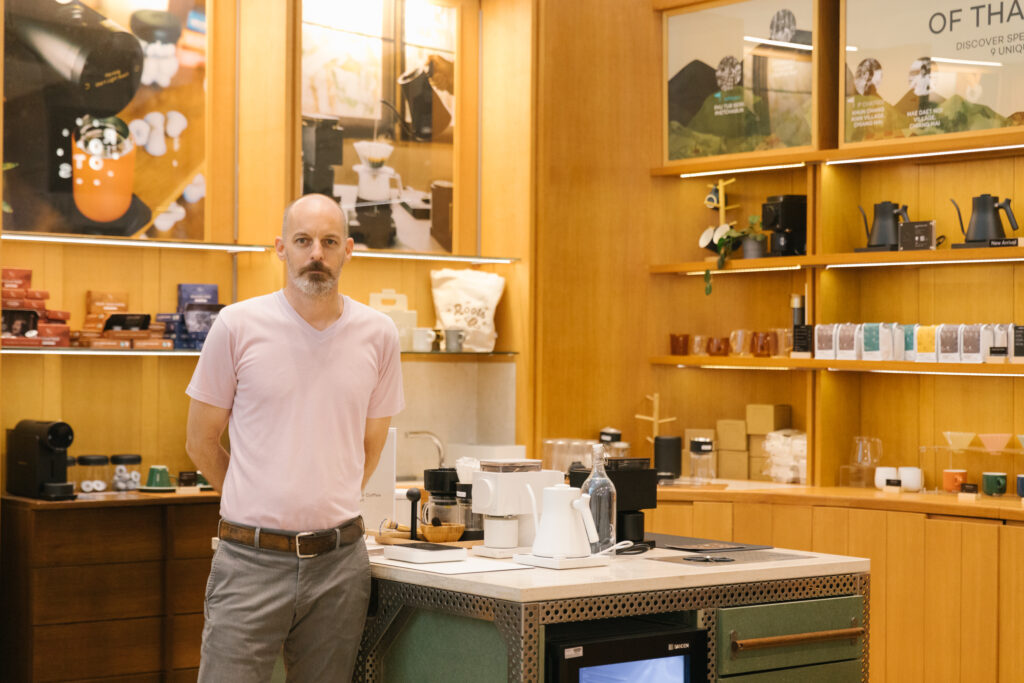 When you grab your favorite cup of coffee from Roots at centralwOrld, you'll discover that the coffee bar here is designed differently than in other locations. Built to be invisible, flexible, and highly efficient is a technical Coffee Modular System that delivers a unique kind of specialty coffee experience: baristas performing at their best while customers are almost invited behind the counter to share in the art of coffee-making. Behind this Modular Bar system is David Schafer, the founder of a small design and fabrication studio in Nonthaburi called Studiomake.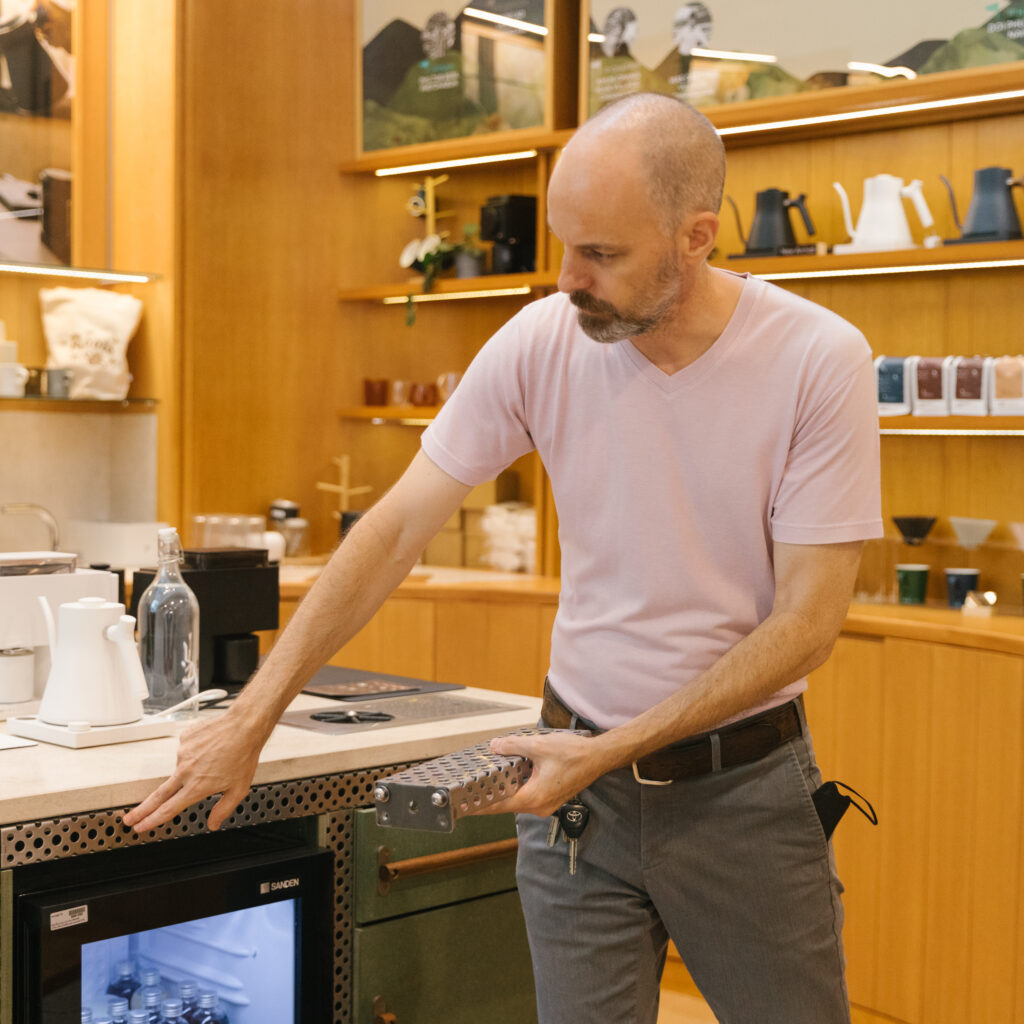 ABOUT: STUDIOMAKE
Studiomake is a team of architects, designers, builders, and fabricators who work on a variety of projects ranging from architecture (designing houses and buildings), construction, designing and building furniture, to fabrication for other designers. 'We solve all of the weird problems you might have,' says David, 'we have an obsession with details and are always thinking about the future side of things.' At the core, David explains that 'it's about deeply understanding the industrial process and how there are opportunities for creativity and expression within mass production. There is joy in the imperfect, and there are points in the process where you can retain some of those imperfections.'
The collaboration between Kinnest Group's family of brands and Studiomake began 7 to 8 years ago, with projects like Little Pea's play equipment and sensory walls and the long picnic tables on the second floor of theCOMMONS Thonglor. The first Studiomake x Roots project was the design-build of Roots at theCOMMONS Saladaeng, and this Modular Coffee Bar System at centralwOrld is the second project and the first use of the system.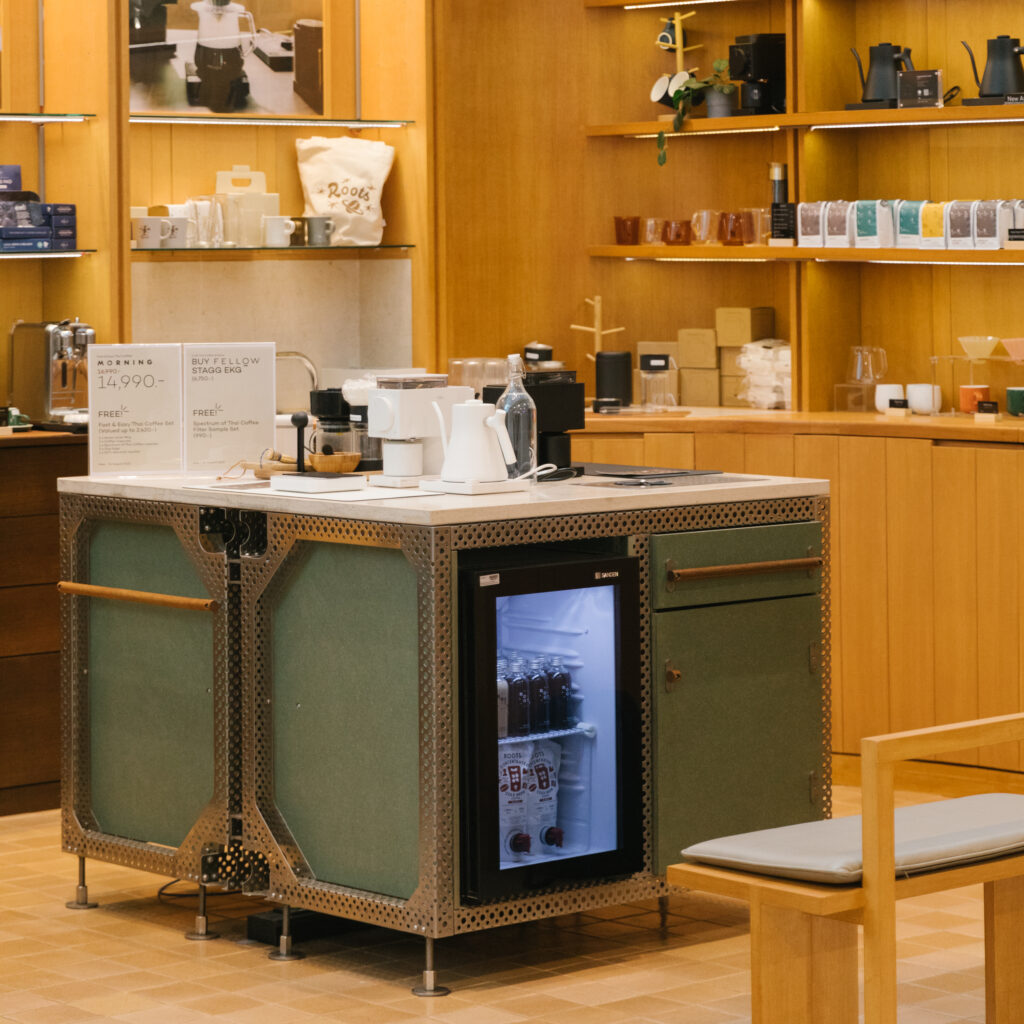 WHY A 'MODULAR COFFEE BAR SYSTEM' FOR CENTRALWORLD?
Roots centralwOrld was envisioned as an 'intersection between a passive retail environment and an active service operation. The technical coffee module system fades to a more domestic retail experience,' writes Studiomake. The space at the centralwOrld site was a collaboration between Studiomake and interior design studio 'Jitivi Studio', who implemented the retail experience flawlessly.
There are many factors at play whenever a new Roots location opens, from the interior design to the customer experience. Currently, with each new branch, the operational aspect needs to be reinvented every time. The idea behind this Modular Bar is for Roots to streamline its back-of-house operations and create a coffee infrastructure that is part of a modular system. This way, with every new location, the Modular Bar can be efficiently set up and flexible enough to be re-used and readily reconfigured. The Modular bar can also accommodate different designers and their shifting philosophies on design.
The Modular Bar at Roots centralwOrld is just the beginning. 'Roots investment in the Modular Bar reflects how much love and care they put into their brand, back-of-house system, and operations,' says David, 'this great attention to detail will allow them to scale with their core beliefs intact.'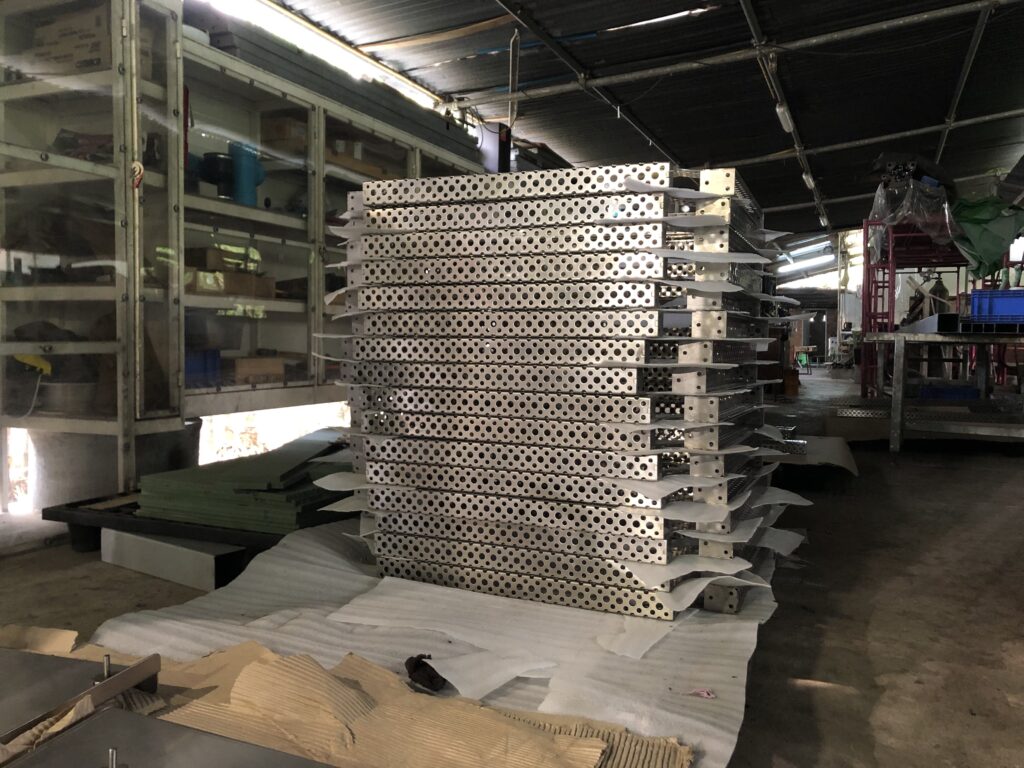 DESIGN PHILOSOPHY: FINDING CRAFTSMANSHIP IN INDUSTRIAL PROCESSES
For Studiomake, there is no separation between the act of design and the act of making, in contrast to large-scale architecture firms where there is generally a cut-off. 'The making starts early and never really ends,' David emphasizes, and 'for designers, more technical knowledge allows for more creativity. The more you understand the tools, materials, and process, the more you can get creative with it. You'll know the boundaries and how to push them.'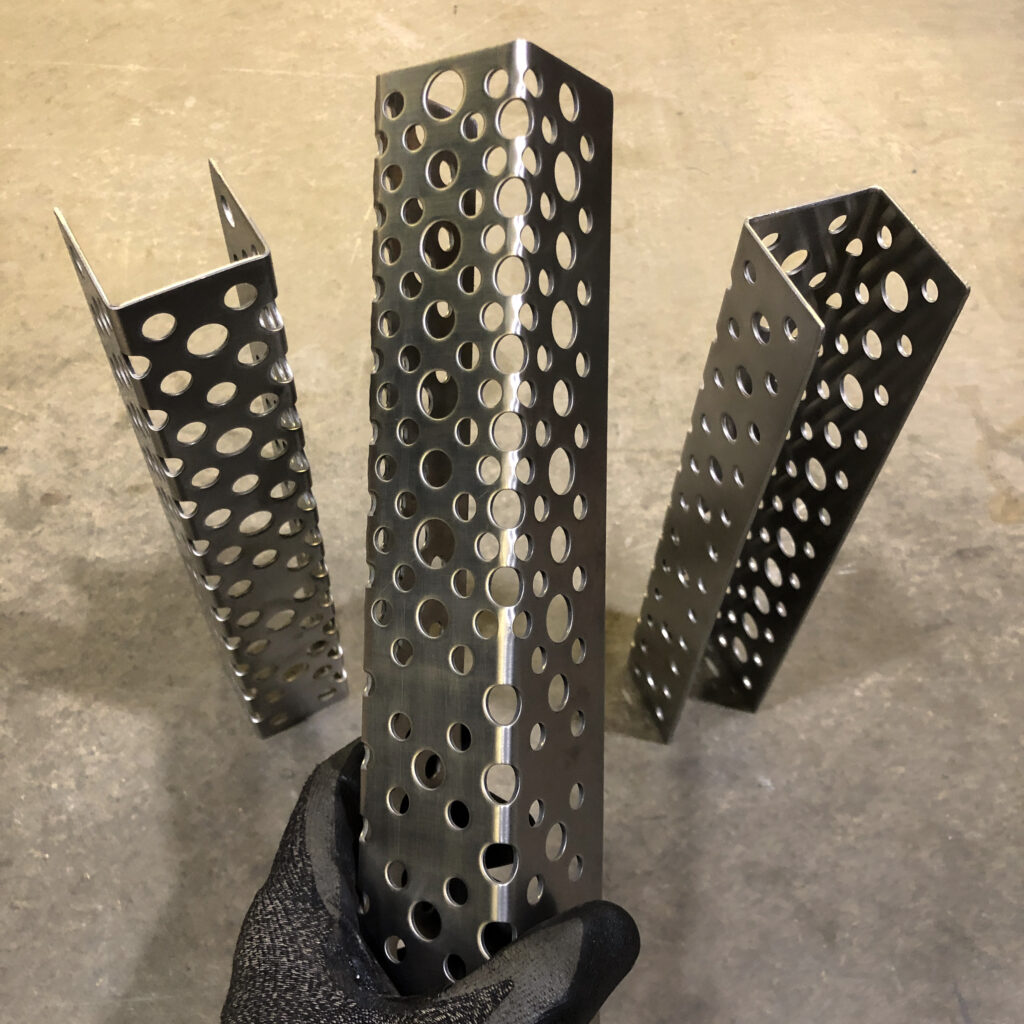 MATERIALS, DESIGN, AND PRODUCTION PROCESS: THINK LEGOS
The Modular Coffee Bar System is comprised of stainless-steel members that are not intended to be prominent. This choice of material is clean, sanitary, and doesn't rust. At the core of the design is modularity, which enables you to expand and contract the system while being open-ended. They are interchangeable and exchangeable, much like Legos. This makes it simple to incorporate new technologies and adapt to potential challenges.
When you examine the Modular Bar closely, you will see a perforated system (holes) created by a punching technique that leaves softer edges than laser cutting. The Modular Bar is constructed from high-quality stainless steel with connector plates that are slightly thicker, making it possible to cut threads directly into the metal, facilitating bolting on things much easier, and allows for exterior cladding. For example, Studiomake integrated this system into the Roots booth at the Thailand Coffee Fest 2022, which was designed by Cloudfloor and covered by exterior wood cladding by another contractor. The system was installed (and uninstalled) in a few hours with all the parts completely reusable.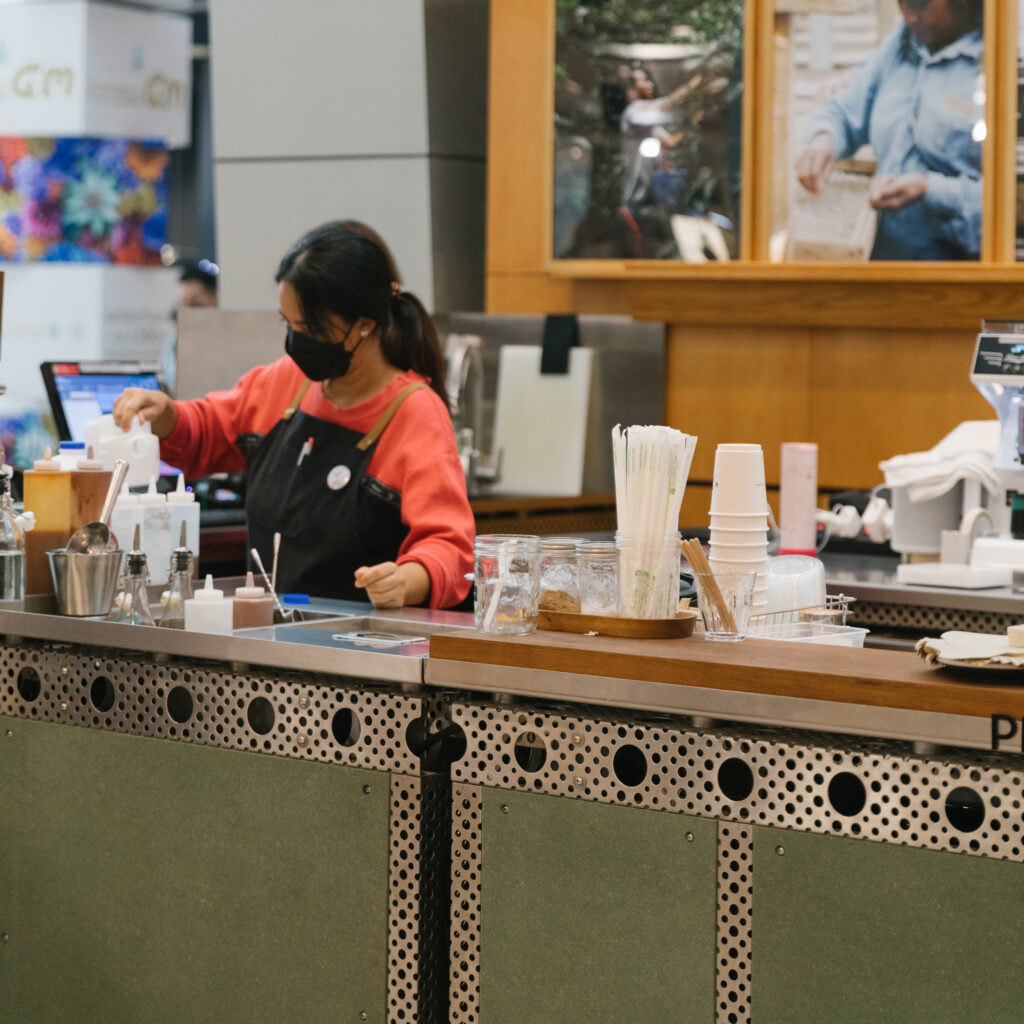 BUILT TO BE INVISIBLE AND OPTIMIZE PERFORMANCE
90% of customers who stroll by Roots at centralwOrld may not notice its new design. 'You won't know how it works, but it just works,' says David, referring to this system as another significant piece of equipment that serves a specific function in the best way possible. It's designed to support the baristas and staff in their organization and optimize performance. For example, the Modular Bars counter tops have an upturned lip on three sides so that nothing leaks to the bottom if there is a spill. Everything is in the details.
WHAT'S NEXT?
While the Modular Bar at centralwOrld is an incredible milestone for Roots, it's also a beta test location that will allow both Roots and Studiomake to study its performance and observe how it works. 'As we move through different locations and encounter more challenges, we'll learn how the system can adjust and be able to fine-tune and change what is needed for it to be a graceful instrument,' David explains.
The Roots x Studiomake Modular Coffee Bar System is just getting started.