Art was in Tokyo to visit SCAJ World Specialty Coffee Conference and Exhibition 2018 and she took this as a chance to do cafe hopping. She stopped by about ten cafés and these three are her favorite!
There're two main types of cafés in Tokyo. The first one serves 'second wave coffee', which are dark roasts with a full body and a strong aroma. And the other one serves 'third wave coffee', which has more varieties and the flavors are more complex.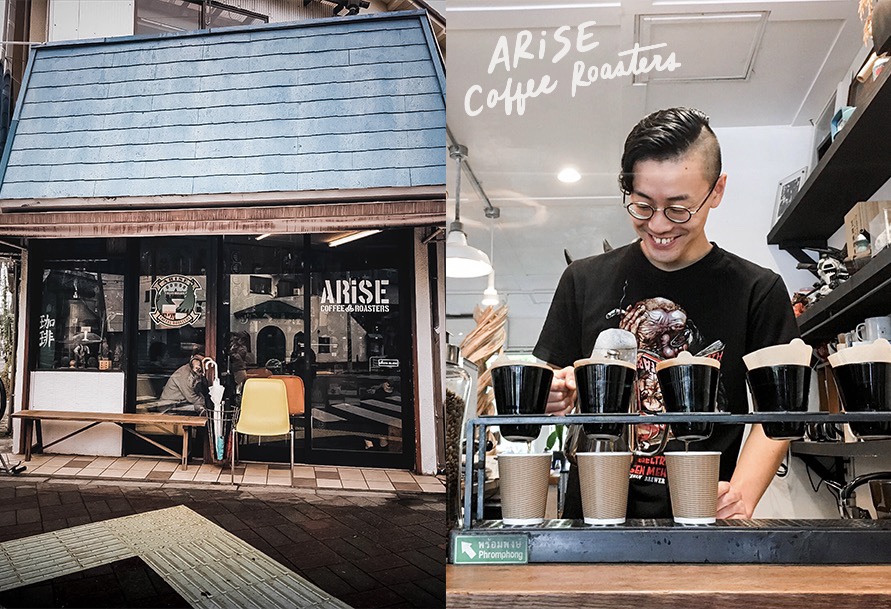 In September (2018), I went to Tokyo for the SCAJ World Specialty Coffee Conference and Exhibition. It was interesting to see so many new innovations that help coffee making more convenient than ever. As a barista, I still enjoy some traditional coffee-making processes that require a lot of different skills, although I feel that we'll have to eventually accept that convenience will become the new norm in the future.
As we all know, Tokyo is a like a heaven for coffee lovers. Cafés are located everywhere – much like 7-11 stores in Thailand. I knew I couldn't leave without visiting some of these cafés. Before I tell you about my favorite ones, let me explain a little bit about the cafés in this city.
There are two main types of cafés in Tokyo. The first one is what we call the second wave coffee, offering dark roasts with a full body and a strong aroma. And the other one is the third wave coffee, which has more varieties and the flavors are more complexed. During this trip, I stopped by about ten cafés and these three are my favorite!
ARiSE
For me, deciding which coffee tastes best is something that is very subjective. So, if it's not about flavors, what else could I use to decide which one I would recommend. The answer is hospitality. That's why ARiSE is one of my picks.
The vibe I felt at ARiSE was truly warm and welcoming. The baristas introduced themselves and introduced me to other customers. It was great to see no boundaries between baristas and customers; it was like everybody got to know each other and was there to enjoy coffee.
ARiSE is known for filter coffee, both hot and iced. Based on the owner's preference, the beans are products of a natural process. I really recommend the filter coffee, it's lightly roasted and well-balanced. Another lovely aspect of this place is the owner. He is Japanese, but he loves Thailand so much that the interior is heavily influenced by Thai style. He also plays Thai country songs and serves Thai coffee. That's the only place in Tokyo I found Thai coffee on the menu. I only wished that he could speak Thai, so that our conversation would have been even more interesting!
ARiSE Coffee Entangle / Address: 3-1-3 Koto, Kiyosumi / Opening hours: 9:30 am – 6:00 pm (closed every Monday) / Website: http://arisecoffee.co.jp

Saturdays NYC
When I was at the SCAJ World Special Coffee Conference and Exhibition, I was impressed by a barista called Tanaka. Before competing in this event, Tanaka was the champion of the Specialty Coffee Association Japan 2017. Although I didn't get to taste his coffee or understand what he said on that day, it was awe-inspiring to see how much of a perfectionist he was. He cleaned everything up and I could tell just by looking that it wasn't because he was competing – it was just his nature. So, after that competition, I looked up some information about him and decided to go to his café.
I hadn't heard about Saturdays NYC, but I added it to my itinerary because of Tanaka. It wasn't until I got to the place that I found out Saturdays NYC is a clothing store with a small coffee bar, serving both espresso and drip coffee.
Tanaka wasn't there because he had to prepare for the next round of the competition. But I did try the coffee at Saturdays NYC. It was great and the operation was impressive as expected. If you come to this place, my recommendation would be Red Eye. It's a drip coffee with an espresso shot. It gives the same feeling and taste as the drip coffee, but the flavor, the body, and the aroma are stronger.
Address: 1-5-2 Aobadai, Meguro-Ku / Opening hours: 9:00 am – 7:00 pm / Website: www.saturdaysnyc.com
Bear Pond Espresso
Opened in 2009, Bear Pond Espresso is an old-school café. The first thing that surprised me about this place was their dark roasted beans. They were almost black! I couldn't help but wondered if it would be too bitter. But when I ordered an espresso shot, I was surprised yet again. The coffee was so sweet. Generally, dark roasted beans would be far from this level of sweetness. How they managed this was absolutely amazing! I also tried their milk-based coffee, both hot and iced ones. They were creamy and reminded me of old-school cafés serving dark roasted coffee that wasn't bitter.
Also, before coming to this place, a few friends who have been here before told me that the owner didn't allow customers to take any photo. However, I decided to engage in a conversation with him and that conversation ended with us taking a selfie together. He told me that, like everything else, coffee has two sides and that there are some people who love complex flavor, as well as those who don't. He compared the world of coffee to the world of sneakers. Sure, plenty of people love Nike or Adidas. But he would prefer to be either Asics or New Balance. And it is his intention to introduce people to a different side of coffee.
So, if you like coffee with nutty and chocolatey notes, this is probably the right place for you. My recommendation is Dirty Coffee, or milk-based coffee, and Angel Stain. The latter is similar to an espresso shot. But with his unique technique, the espresso shot here is pleasantly sweet!
Address: 1-17-1 Shibuya Shibuya-ku / Opening hours: Monday – Friday 10:00 am – 11:00 pm, Saturday – Sunday and holidays 11:30 am – 11:00 pm / Website: www.bear-pond.com