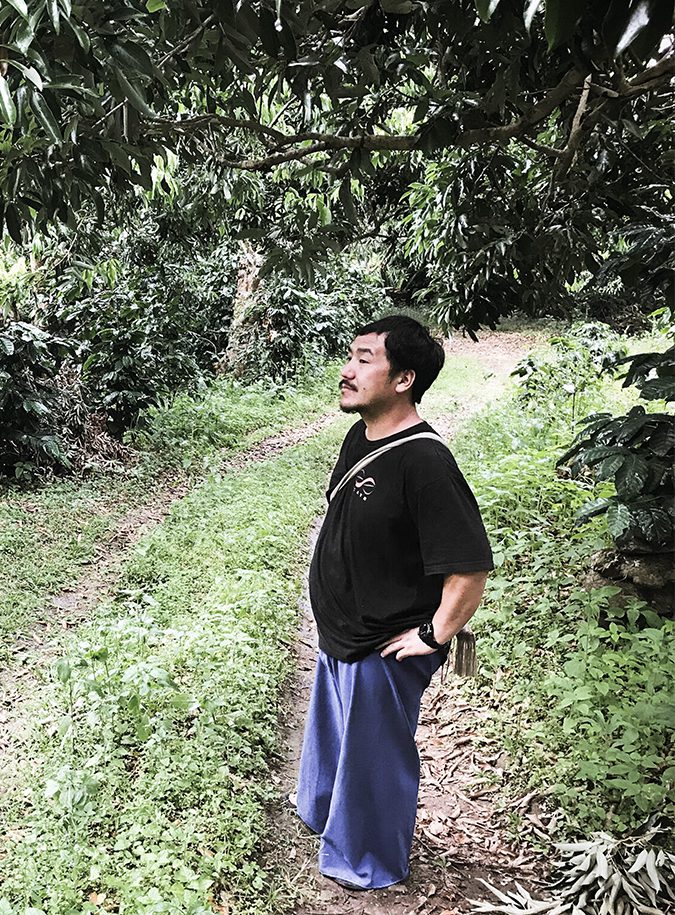 Mr. Roots: What did you do before becoming a coffee farmer?
P'Chatree: I was working at a tourist information center in Chiang Mai not long after I had quit school. For my second job, I was working at a dessert place on Nimmanhemin Road. The most recent job I had before moving back to Khun Chang Kian, was working as an insurance agent. During that time, I started to understand that everyone is different and that the word 'happiness' means is unique to every individual. I believe that at some point in life, everyone will discover what makes them happy. For me, it was coming back to this village and start living my life as a farmer.
It wasn't until six years ago that people around here began farming coffee. Since there were a lot of coffee trees on my farm, I found myself asking the question of "Why don't I try processing my own coffee?". I spent the first two years processing coffee without thinking much about how to improve the quality. However, after a conversation about specialty coffee with P'Tee from Graph Café and P'Sanchai, I realized how coffee processing could add more value to the beans. So I started learning how to make specialty coffee and attended almost every coffee event I could go to. I talked to a lot of people in the industry and tried to get to know the entire process as much as I can.
Mr. Roots: What do you like about Khun Chang Kian?
P'Chatree: I love the weather here and I like that it's not too far from the city. It's possible for me to go to the city in the morning, run errands all day, and drive back to Khun Chang Kian within the same day. I'm also proud of our community. We have coffee farms and we have made our products valuable enough so that we don't have to plant something else to make a living. I would say we've been quite lucky so far.
Mr. Roots: How did your coffee journey begin?
P'Chatree: I wanted to find out how our village came to be a place that farmed coffee and I came across a VDO clip saying that it began when King Bhumibol traveled to this area in 1962. The villages he visited were Doi Pui, Nong Hoi and Khun Chang Kian. His Majesty also initiated the royal projects; the project at Doi Pui was about high-altitude farming while the Nong Hoi's one focused on crop rotation. For Khun Chang Kian, His Majesty recommended the locals to grow coffee and lychee. Although we've been doing this for a while, it is now our responsibility to improve the quality of our products. Being a coffee farmer isn't going to turn you into a millionaire, but it has been the main source of income for my family for many years.
Mr. Roots: Where do you see yourself in the next five years?
P'Chatree: I want to stay home and sell coffee (laughs). I'll probably process some coffee and produce green beans for cafés. Another thing I think I'll be doing is encouraging other farmers to process their coffee by themselves while exchanging knowledge and experience so that we can all learn more about coffee. I want high-quality coffee to be more commonly found throughout our country.
Mr. Roots: What does coffee mean to you?
P'Chatree: At Khun Chang Kian, coffee is everything. As I said earlier, coffee has been and is such a big part of this village. Here, people's lives are closely connected to coffee, not only does it give them a better quality of life but it also helps to ensure that the environment is preserved for our future generations.
Mr. Roots: What's your favorite coffee?
P'Chatree: Drip coffee.
Mr. Roots: If you weren't a coffee farmer, what do you think you would be doing now?
P'Chatree: If I had finished my degree, I would probably be a designer since that was what I wanted to be in my teens. But I didn't really have a clear goal. I knew I just wanted to be just somewhere that allowed me to explore my passions. If I wasn't a coffee farmer but still lived in this village, I would probably plant lychee or vegetables – or maybe I would be a vendor at a flea market.
Mr. Roots: Is there anything you would like to tell our customers?
P'Chatree: Coffee farming can have such a significant impact on nature as coffee trees can grow and co-exist with other trees, as well as be a source of the water itself. From an economic perspective, coffee gives locals a career and improve their quality of life. For these reasons, I want the customers to not only try the coffee from Khun Chang Kian but also discover the uniqueness of Thai coffee.