Road Trip to Nan with Korn, Our Head Roaster & Green Buyer
24.09.18
Recently, Korn, our Head Roaster & Green Buyer, took a road trip to the North of Thailand to meet Kaleb, an American missionary who produces coffee beans in Maneepruk village in Nan. Here, he tells us more about his trip.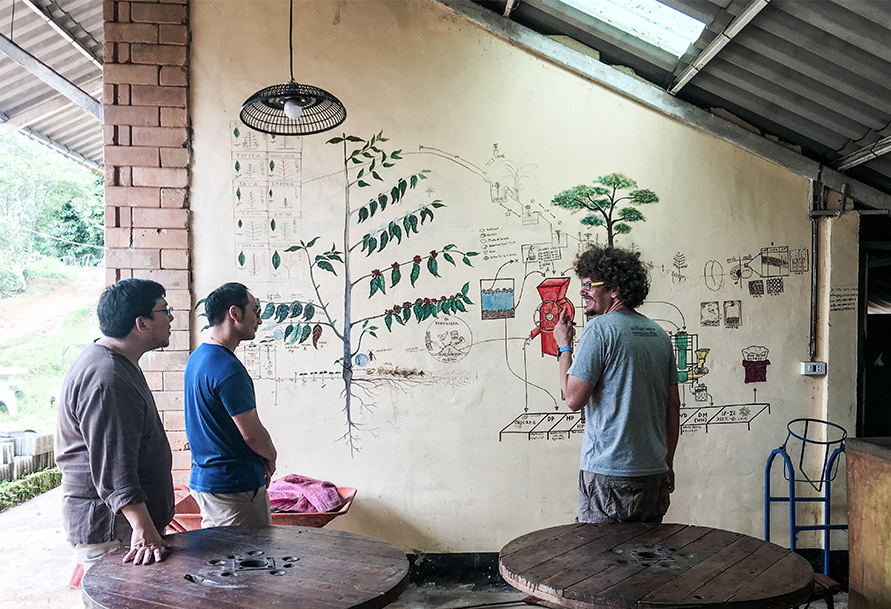 Mr. Roots: Could you please tell us a little bit about Kaleb? Who is he and what is he doing in Nan?
Korn: Kaleb is American, but he was born in Nan. His parents were missionaries who moved to Thailand. Kaleb was a student at the School of Mechanical Engineering, Purdue University in Indiana, USA. At the time, he didn't have any plans to return back to Thailand until he became a junior and that's when God's calling encouraged him to move back to Thailand. Since then, he's been a missionary in Maneepruk village. His work is to spiritually support Prai people who are ethnic minorities in Nan.
Aside from being a missionary, Kaleb also grows coffee as the environment up here is very ideal for the plant and he sees it as an opportunity for the locals to have a sustainable income. His first crop was Geisha coffee. At first, the people in the village weren't convinced but when they saw people traveling from Bangkok to Nan just to visit Kaleb's coffee farm, their trust in coffee started to grow. It took Kaleb for almost 10 years to really see the change he had imagined.
Mr. Roots: What was your plan for this trip?
Korn: My first stop was Maneepruk village in Nan and the second one was Khun Lao village in Chiang Rai. Actually, I met Kaleb in person before but on this trip P'Tae joined me, so the two met for the first time. We visited his farm and where he processes his coffee.
I learned that Kaleb is now experimenting with the idea to add minerals to water because if the water has a right proportion of minerals, it will increase the flavor of the coffee. There is a group in Kickstarter called Third Wave Water, who also experiments with the same subject. Kaleb has tried his method by adding calcium, magnesium, and sodium in water. We used that water in blind cupping. The result fascinated us because the mineral-added water gave distinct sweetness to coffee and we found it to be our favorite one.
Moreover, I asked Kaleb to teach me about fertilizer because I was planning to visit P'Jaroon's farm and help him with this issue. That's why Khun Lao village was my next stop.

Mr. Roots: Why did you have to use fertilizer for P'Jaroon's farm?
Korn: I have been working with P'Jaroon since 2014. He is a very disciplined farmer, and that's why his coffee trees are so beautiful. Before this trip, P'Jaroon and I tried processing coffee together a few times. Although the coffee was good, we've always felt that it could be better. Earlier this year, I went to see Kaleb and did a coffee cupping with him, using coffee from P'Jaroon's farm. It turned out that the flavor from P'Jaroon's coffee was less strong compared with others although his coffee trees are so well-taken care of. So, I asked Kaleb for his advice.
Kaleb explained to me that the fertilizer suitable for coffee is different from general fertilizer. Most fertilizers that match with other plants are usually N-P-K, containing three primary minerals: nitrogen, phosphorus, and potassium. These minerals typically affect leaves, flowers, and produces. However, when it comes to coffee, it's more complicated because we don't consume leaves or pulps - it is always about coffee beans. Instead of N-P-K, calcium is needed to fertilize the beans. But there are also a few more problems. For example, we couldn't add calcium to the soil directly. Coffee trees don't absorb the mineral by doing that. Also, if the soil already contains too much N-P-K, it is hard for coffee trees to absorb calcium.
After a talk with Kaleb, I asked P'Jaroon how he fertilized his crop. He told me that he mainly uses the primary minerals. It helped his coffee trees to grow well and if there was no major problems expect from losing a little bit of flavor, he was alright with it. So, I suggested he could add calcium to the trees. Calcium could be found in chicken manure because animal bones are its food. I also added rice hulls, coffee cherry skins, and dolomite to improve the soil. I'll be checking with him to see how it's going, we'll see if this works!
Mr. Roots: When will we get to try the coffee from Kaleb and P'Jaroon?
Korn: Probably in January next year. We will have Kaleb's coffee grown in Phu Wae. Please stay tuned!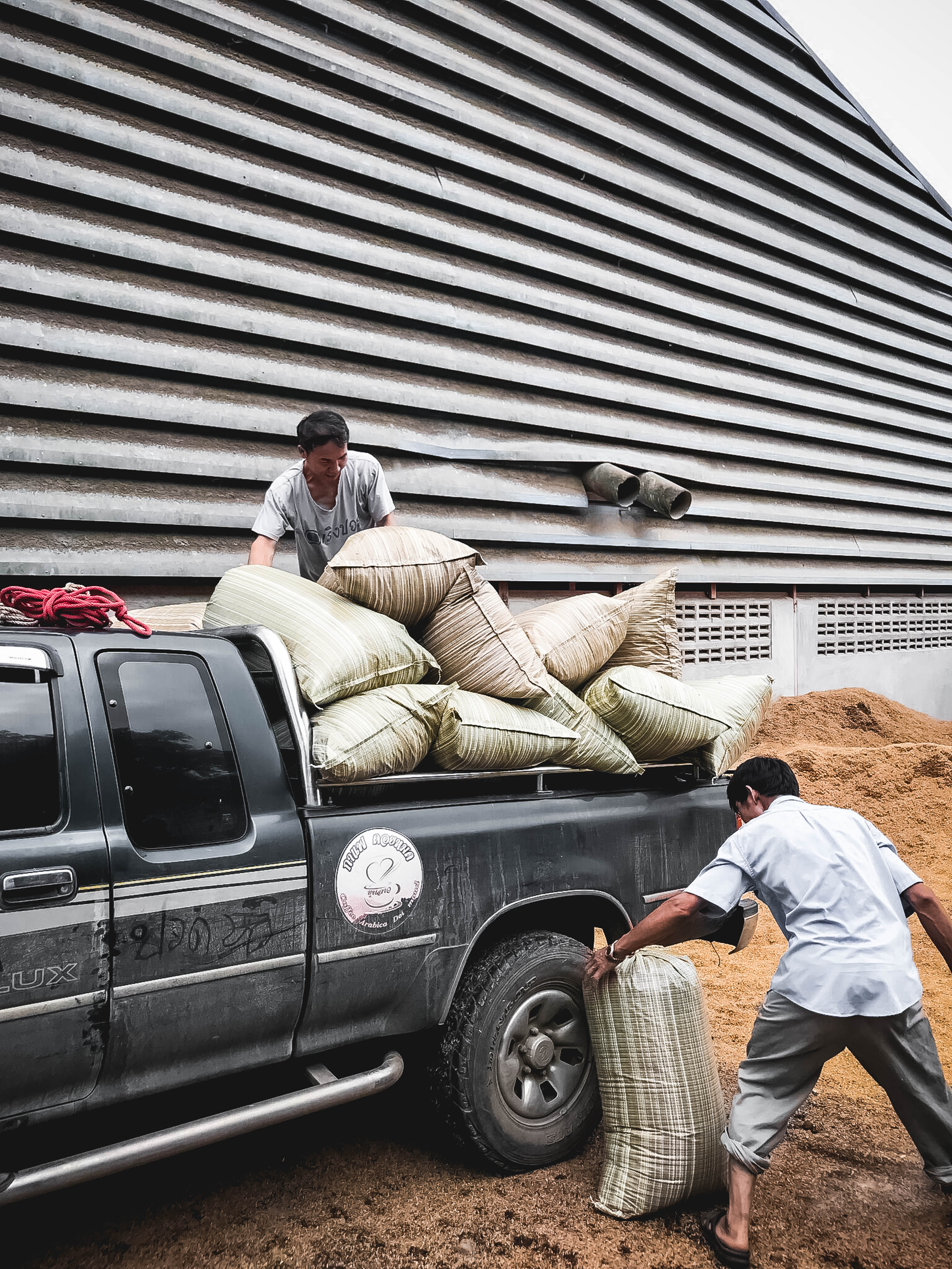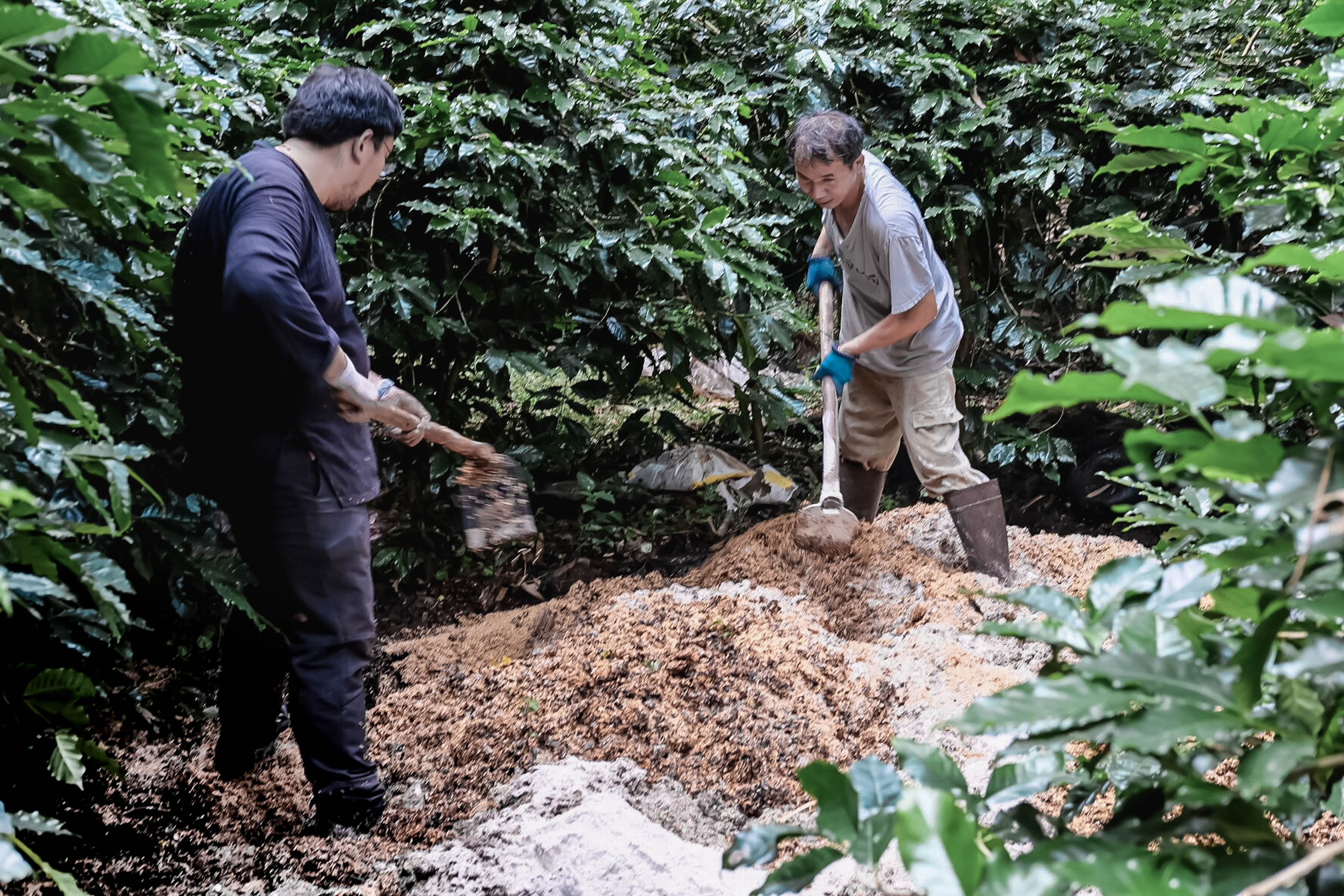 Previous




https://rootsbkk.com/journal/road-trip-to-nan-with-korn-our-head-roaster/

Next